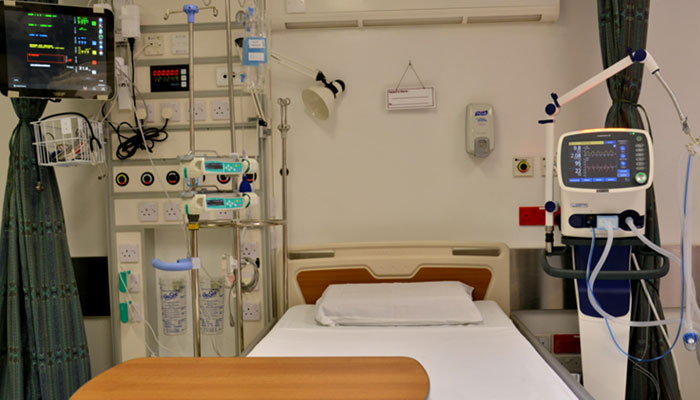 RAWALPINDI: One of the biggest concerns for the health department during the coronavirus pandemic in the country is how to cope with the meagre health resources as the number of patients in the country grow.
Pakistan, being a third world country and an overburdened health care system is not well equipped with resources to deal with the situation of crisis especially the deficiency of ventilators.
The Biomedical Department of Rawalpindi Institute of Cardiology (RIC) under the leadership of Executive Director Major General (r) Azhar Mahmood Kayani has devised a method to use one ventilator to support four patients during an emergency situation.
In a statement issued by the RIC, a test was carried out on artificial lungs to demonstrate the possibility of such an arrangement. The test was successful on all types of the available ventilators in the hospital, the statement read.
Speaking to The News, General (r) Azhar Kayani suggested that all hospitals should be aiming at this kind of arrangement during the ongoing crisis.
"The biomedical department of RIC is happy to provide all support and guidance to other hospitals and doctors in this regard thus contributing as much as they can during this difficult time," he said.
Read also: Facts and figures: A snapshot of Pakistan's healthcare system
Moreover, he pointed out that this method should only be encouraged in situations where we fall short of ventilators to support the patients and should not be used as a first-line strategy. 
He further explained that in this method, to maximise the benefit, patients should be carefully chosen to have the same body weight and height approximately. By using this strategy we can overcome the deficiency of ventilators across the country and maximise the effective use of available resources, General (r) Kayani said.
Read also: Dr Zafar Mirza says 25 people have recovered from coronavirus so far
A ventilator is a machine that is used to provide breathing support mechanically by delivering oxygen through a tube placed in the mouth, nose or a hole in the neck to patients who are unable to breathe normally or incapable of breathing sufficiently, in most of the cases due to malfunctioning of lungs.
It is important to mention here that every year, thousands of patients lose their lives because of the unavailability of ventilator supported beds at public sector hospitals in the country. Majority of these patients are already admitted in wards and their call is sent to intensive care units for want of ventilators but they expire because of not having a vacancy in ICUs.
A number of senior health experts have told The News that in case, the COVID-19 outbreak gets severe in Pakistan, the maximum damage would be because of a shortage of ventilators.
Shortage of trained paramedics
On the other hand, the idea floated by General Kayani may not work properly in Pakistan because of a shortage of trained staff to handle ventilator. 
The idea of reconfiguring ventilators so that these life-saving devices can serve two or four patients simultaneously instead of one patient was brought under discussion last week in the United States regarding a 2006 feasibility study published in the journal 'Academic Emergency Medicine' written in the aftermath of 9/11 and Hurricane Katrina. In essence, the study shows that a ventilator can be modified with adapters and T-shaped tubes so that it has four ports for four patients.
Read also: The first 3D-printed ventilator prototype in Pakistan could be ready within two weeks
General (r) Kayani, however, told The News on Saturday it was time for public sector healthcare facilities to get the staff trained on handling ventilators.
Senior doctors, medical universities and College of Physicians and Surgeons Pakistan must launch one-week intensive training courses for doctors, nurses and paramedics immediately as we have little time before the COVID-19 outbreaks hits population more severely, he said.
According to The New York Times, after the COVID-19 crisis, New York-Presbyterian Hospital in Manhattan began practising ventilator sharing last week by putting two people on a single ventilator.
However, the idea was strongly criticised by medical societies across the US including Society of Critical Care Medicine, American Association for Respiratory Care, American Society of Anaesthesiologists, Anaesthesia Patient Safety Foundation, American Association of Critical Care Nurses and American College of Chest Physicians stating that "Sharing mechanical ventilators should not be attempted because it cannot be done safely with current equipment."
Originally published in The News