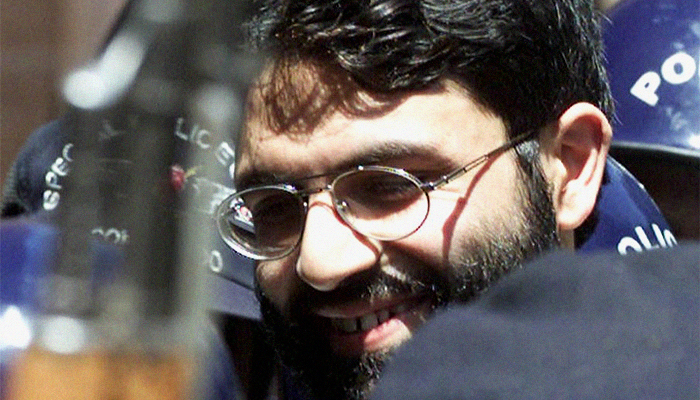 "Hazrat maulana sahab has returned a victor," said the voice at the other end of the phone call I had received at dawn. The emotional caller then invited me to meet him.
How could a journalist let go of such a rare opportunity? And so I immediately set out for the meeting.
This "Hazrat maulana" was Masood Azhar, whom New Delhi was forced to release in exchange of an Indian plane hijacked in Kandahar. The exchange of prisoners and passengers took place in the Afghan city.
This was the biggest news from the region at that time.
He remained there sitting quietly during my two-hour-long conversation with Azhar at a madrassa in Karachi's Binori Town.
I ignored this young man who was released alongside Azhar from the Indian jail. How could I know that this youth — sitting silently staring at his nails — would go on to gain more prominence than Azhar?
In the two years that followed, the world around me changed drastically. The 9/11 attacks occurred, the Taliban regime ended, a burka-clad Mullah Omar reportedly fled on a motorcycle, Osama bin Laden and al-Zawahiri were declared fugitives, and Azhar was designated one of the world's most-wanted people.
Selfishness was changing the shape of the world altogether. The dark war on terror had begun.
I was associated with BBC London when the news surfaced that American journalist Daniel Pearl had been kidnapped. I had travelled from the British capital to Pakistan to cover post-9/11 events and had met him a few weeks earlier with some foreign journalists in Islamabad.
Pearl's smiling face from the meeting in Islamabad continued to race through my mind, as his captors released a photo wherein he was seen bound, tired, and broken. Using email to communicate, his abductors claimed they were the 'National Movement for the Restoration of Pakistan's Sovereignty'.
Then came the news of Omar Sheikh's dramatic arrest; he was presented in an anti-terrorism court, chained in handcuffs. A man who was the sidekick — or chhota — of Maulana Masood Azhar, the soul of the Kashmiri jihad, was now charged with the heinous crime of masterminding Pearl's murder.
I clearly remember when Azhar had introduced me to Omar Sheikh in that Binori Town madrassa. "He speaks their language and looks like a foreigner but his soul is one with jihad," Azhar had said.
At that time, the use of such words sounded like jihadist rhetoric; however, the terrorist networks had likely chosen Omar Sheikh on this exact same basis. He was arrested in India for kidnapping foreigners and he had now caught another — Pearl — in his trap.
As the information on Sheikh continued pouring in, my curiosity to know about his personality grew. Born into a wealthy business family, he studied at top private educational institutes such as the Aitchison College and the Forest School in the UK before being admitted to the prestigious London School of Economics (LSE).
One of his friends from college told me during a meeting in London that Sheikh was a genius but often flew into a rage. In the mid-90s, he went to Bosnia — a troubled country in Eastern Europe — and then popped up later in India where he was arrested.
Sheikh's friend whom I met in London told me that he would frequently talk of the conditions of Muslims in Bosnia and Kashmir and that Muslims should help themselves instead of turning towards western powers for help. No doubt he had an aura of mysteriousness surrounding him, the friend said, before adding that for a minute, he would be engaged in arm-wrestling at a cafe and then vanish for days at a time.
From London to Bosnia and from Kashmir to Kandahar, Sheikh meandered around in the foreboding pathways of global terrorist networks — but was finally caught in the web of law in Karachi.
Almost a year later, in 2013, I returned to cover Pakistan and Afghanistan and wrote a special report — titled "Who Killed Daniel Pearl?" — in collaboration with Time Magazine journalist Tim McGirk.
I spent many days investigating the incident in Karachi, revealing perhaps for the first time that Pearl was stabbed to death by key Al Qaeda leader, Khalid Sheikh Mohammad, who was also known as KSM.
Mohammad later confessed to killing the American journalist in front of US interrogators and is currently incarcerated in Guantanamo Bay.
The investigation into Pearl's gruesome murder also revealed a dangerous nexus between elements from Al Qaeda, jihadist groups participating in the Afghan war, and the Lashkar-e-Jhangvi. Sheikh, on the other hand, bridged the gap between them.
"Omar met Daniel Pearl under a pseudonym," a senior police officer, who was part of the investigation, told me. "He was in touch with Al Qaeda and very cleverly trapped him, agreed on a meeting place, and then handed him over through the help of jihadist fighters to KSM."
The day he was kidnapped, Pearl had also met Jameel Yusuf, who, at that time, was working with the Karachi police as the head of a committee investigating criminals and mafia. Yusuf may probably never forget that meeting.
"We were talking about the changing dimensions of crime and terrorism after the 9/11 attacks when [Pearl's] phone rang," Yusuf said. "I had heard him saying, 'I can meet you ... in 15 minutes, perhaps.'"
The head of the investigative committee had worked with US and Pakistanis intelligence officials in probing the matter, leading to resolving the complex case and, later, to Sheikh's arrest. Once behind the bars, changes in Sheikh's life were bound to come.
Senior officer Amanullah, who was stationed at Karachi Central Jail at the time, told me about Sheikh and the prison's conditions. "Anti-American sentiment was rife in the initial days and Omar Sheikh was a brand for the jihadist fighters incarcerated there," he said.
"He also presented himself as a hero," Amanullah added. "He was sure that he would be jailed for a few years and that he would once again roam around freely."
The senior officer, however, was killed during a wave of terror in Karachi later.
Sheikh had been sentenced to death and has been serving a prison sentence for the past 18 years.
Is he a different person now? A broken man? Could there be space in the story of his life for a character from literature that is first shown as a villain but tries to change his lifestyle after a moral awakening over the mistakes from his past?
A senior officer, who recently met Sheikh in Hyderabad jail, explained to me his impression of the meeting.
"He looks like a despondent man, appears some 10 years older than his real age. His beard has now completely turned white. His aggressive demeanour has changed altogether."
The same investigative officer, however, also found a guide written by Sheikh — titled "Ghazwa-e-Hind," or War of Hindustan — that lays down instructions on how to carry out jihad in India.
Similar to the mysteriousness his friends had experienced in his character, the interrogators, too, knew there was something peculiar about him.
Some investigative officers claim him to be an "inexperienced terrorist," who was arrested over botched kidnapping gigs. On the other hand, some consider him an extremely shrewd and intelligent man who trumped the polygraph testing — or lie detecting — machine used by the FBI.
According to Pakistani fiction author and investigative police officer Omer Shahid Hamid, Sheikh is an "extremely interesting character, his story akin to the Greek tragedy". In fact, one of the main characters of Hamid's book, "The Spinner's Tale," is inspired by Sheikh and many key events are similar to those surrounding Pearl's abduction and killing.
Nonetheless, Sheikh's life took a turn recently when a provincial high court converted his death sentence to seven-year imprisonment and acquitted three of his accomplices, leading to a severe reaction from the US.
Principal Deputy Assistant Secretary of the US Department of State's Bureau of South and Central Asian Affairs, Alice G. Wells, termed the court's move "an affront to victims of terrorism everywhere".
In addition, Pearl's parents appealed to Pakistan's apex court to provide justice and render the high court's ruling as null and void.
In an emotional video shared on social media, Judea and Ruth Pearl had said: "We are standing up for justice not only for our son but for all our dear friends in Pakistan so they can live in a society free of violence and terror and raise their children in peace and harmony."
Separately, Pakistani authorities had ordered that all of the Daniel Pearl murder suspects be kept in detention for another three months. It also seems like the Supreme Court may also schedule a hearing of Pearl's parents soon.
Sheikh is a significant burden for the Pakistani establishment.
On the one hand, there is the view that letting go a person involved in such high-profile crimes would be disgraceful to the country. On the other, Sheikh's importance to the jihadist fighters is nothing more than that of a spent cartridge.
The enigmatic Omar Sheikh, who once ran the lengths of the labyrinth of terror, is now perhaps condemned to stay in the hellish pathways of this maze for the rest of his life.
---
Tohid is a renowned journalist and columnist; he can be reached at his email [email protected], or on Twitter @OwaisTohid