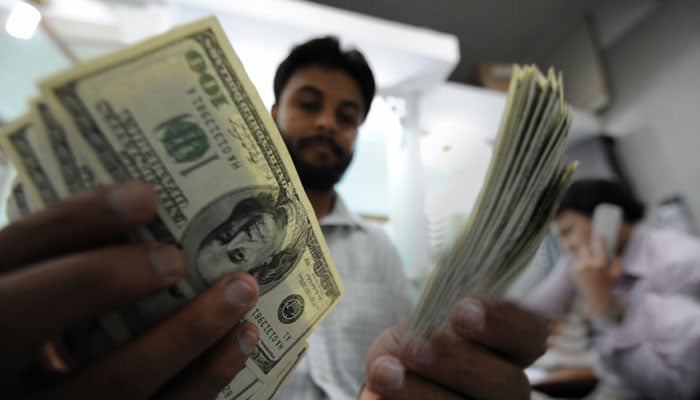 KARACHI: The buying rate of the US dollar was Rs155.5, while it was sold at Rs156.2 on Saturday, March 20.

The currency dealers said on Friday that the rupee ended weaker as importers stepped up dollar purchases to meet their payment obligations, while the third wave of coronavirus outbreak hurt sentiment.
The local unit lost 30 paisas to close at 156.40 against the dollar in the open market.

Read more: US dollar against Pakistani rupee on March 19
"There was a higher demand from importers and corporates, which pushed the rupee down," a currency dealer said. "The inflows were not enough to meet the demand," he added.
Meanwhile, following were the rates of the US dollar, Saudi Riyal, UK Pound, the UAE's Dirham, and other foreign currencies in the open market on Friday.

The information has been obtained from the Forex Association of Pakistan.
| | | |
| --- | --- | --- |
| Currency | Buying | Selling |
| Australian Dollar | 119 | 121 |
| Canadian Dollar | 121.5 | 123.5 |
| China Yuan | 24.2 | 24.35 |
| Euro | 183 | 185 |
| Japanese Yen | 1.51 | 1.54 |
| Saudi Riyal | 41 | 41.5 |
| UAE Dirham | 42 | 42.5 |
| UK Pound Sterling | 215.5 | 218 |
| US Dollar | 155.5 | 156.2 |