KARACHI: The Pakistani parliament made international headlines amidst reports that it had passed a proposal to chemically castrate repeat sex offenders.

The Criminal Law (Amendment) Bill, 2021, which a joint sitting of Parliament had approved last week, was drafted in response to a rise in the reporting of sexual crimes across the country and demands by an enraged citizenry to seek strict punishment for rapists. 
After initial reports in global media that the bill had been passed with the castration clause intact, the move had drawn strong reactions from around the world, many of them supportive. 

It was only later clarified that the government had dropped the castration clause from the final draft of the bill after receiving objections from the Council of Islamic Ideology (CII) — a state-run body that interprets laws from the Islamic perspective. 
However, reports that Pakistan had okayed the chemical castration of serial rapists were hailed widely by Chinese citizens, who have been demanding similarly harsh punishments for sex offenders amid a sharp rise in sex crimes. 

On Chinese social media website Weibo, also known as the 'Chinese Twitter', the topic drew a huge discussion.

Like the trending function on Twitter, the 'hot hashtag' ranking on Weibo, which has over 300 million daily active users, demonstrates how Chinese social media users feel about and interact with social topics.
The hashtag "Pakistan allow chemical castration against habitual rapists" was read over 100 million times and discussed over 2,843 times on Weibo.
A comment stating, "I think it is great, it should be promoted through the country or the world," got the most 'likes' on Weibo.
In an online poll which asked: do you agree on using chemical castration against habitual rapists — in which over 250,000 users participated — 90,000 users chose "I am male, I agree", while another 154,000 chose "I am female, I agree".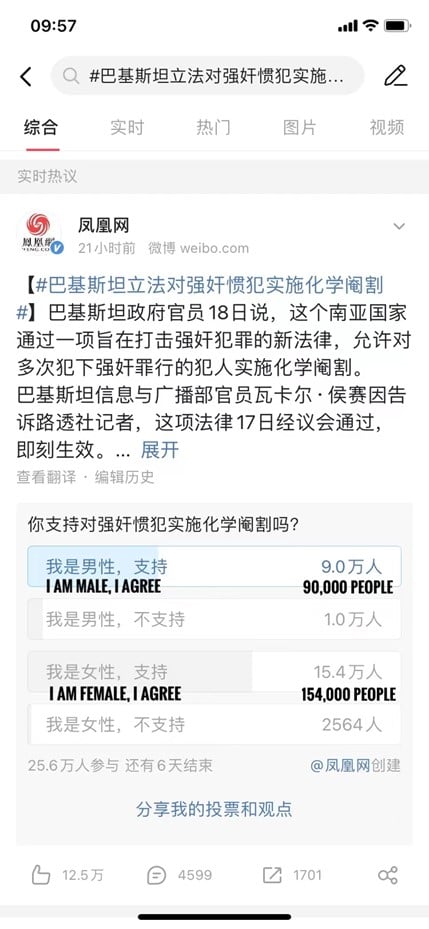 Some Chinese social media users went a step further: they were of the view that "chemical castration is actually not cost-effective", therefore using "physical castration once and for all" is a more feasible solution.

This strong reaction from users indicates that people in the country are eager to see harsh punishments being meted out to sex offenders.
Fighting sex crimes in China is complicated due to the prevailing law as well as widespread social stigmas. Most victims are scared and unwilling to report the crime or prosecute criminals.
This is also connected to the idea of sex and gender in Chinese traditional values. In recent years, due to the global #MeToo movement, more and more victims are voicing and raising public awareness regarding crimes of a sexual nature. But under the ambiguous law and the punishment prescribed therein, there is still a long way to go for social justice and fairness.
Debate in Pakistan
Meanwhile in Pakistan, owing to a rise in reporting of sexual crimes in recent years, including incidents of child sexual abuse, most Pakistanis had demanded the introduction of strict punishments for rapists and sex offenders, including public executions, as a deterrent. 
However, when the government introduced the idea of chemical castration of repeat sex offenders, as proposed by PM Imran Khan, the public showed a mixed reaction. 
On the one hand, the public lauded the move and commended the government for taking the initiative. But on the other, religious groups, including the Jamat-e-Islami (JI), protested the passing of the bill in the light of Shariah.

Senator Mushtaq Ahmed of the JI objected to the bill when it was tabled in the Parliament, terming it "un-Islamic and against Shariah."  Instead, he supported the idea of hanging the rapist publicly. 
Speaking to
Geo.tv
, Shiraz Ahmed, programme manager at War Against Rape (WAR) — a non-profit organisation working on preventing gender-based violence — explained that ensuring conviction in rape cases is far more important than chemically castrating offenders. 
"The state should work to enhance capacities of investigators and prosecutors and provide them with a better environment so that more cases are concluded," he said. 
"Currently, a meagre 3% of cases reach the conviction stage. Therefore, the certainty of punishment is of key importance to create deterrence in society," he said.
"This punishment [chemical castration] is inhumane and cruel," he added.
What is chemical castration?
According to the bill, "chemical castration is a process duly notified by rules framed by the prime minister, whereby a person is rendered incapable of performing sexual intercourse for any period of his life, as may be determined by the court through administration of drugs which shall be conducted through a notified medial board".

---
Chang Baichuan is an Editor at Sina Weibo