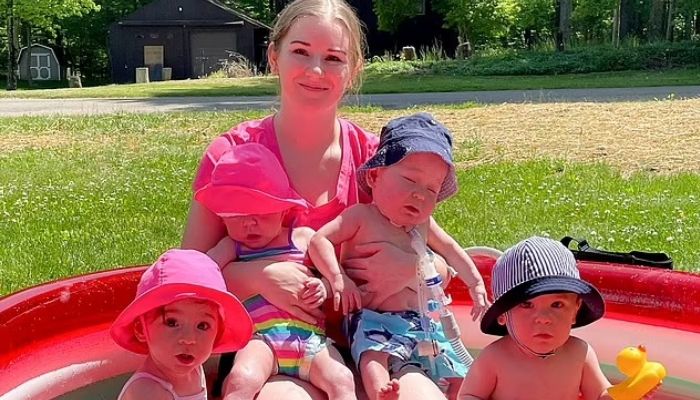 Hannah Merton thought she was infertile so couple turned to medicines for ovulation.
She gave birth to five babies prematurely; smallest one passes away.
Merton says she is happy and would not want different life.
---
A 23-year-old woman who feared she was infertile and was struggling to conceive gave birth to five children at the same time, the Daily Mail reported.
Hannah Merton from Ohio turned to medicine to stimulate ovulation. In 2019, she conceived five babies.
The children were born prematurely, weighing just a little over half a kilogramme each. Therefore, the start for the kids was tough. The children were named, Elliot, Evangeline, Gideon, Philomena, and Meredith.
Unfortunately, the smallest of the babies, Meredith, passed away at three days old after a brain bleed.
The babies are now healthy and recently turned two. Merton says she is happy with her full-time job as a mother.
"Having lots of children is scary, and it is crazy, but it is so much fun. I do have my hands full, that is true. But my heart is even fuller, I wouldn't have it any other way," said Merton.

Explaining her struggle, she said, 'I suffered from infertility, so I took medication to help me ovulate, and it worked better than we expected."
"We were told at the time I had a 1% chance of having triplets, nobody mentioned the chance of four, never mind five babies, because it was so low."
She said that when she found out about the quintuplets, she was in complete shock as she thought she was infertile and felt very emotional.
"Seeing them in the NICU was love at first sight, but I couldn't bear to leave them behind, so finally bringing them all home was an amazing feeling," she added.

The couple started planning for a baby and trying three years ago. After struggling, they tried medication, and finally, in October, a pregnancy test came back positive. Soon, the doctor also confirmed that she was not having one but five babies.