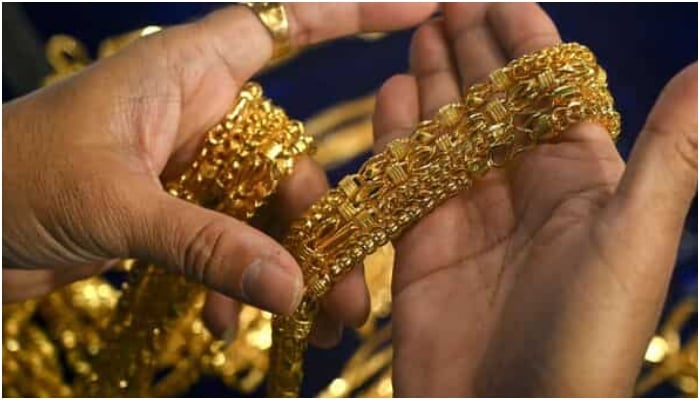 Gold price settles at Rs155,850 per tola.
Price of yellow metal closes at Rs133,616 per 10 grams.
Price of gold declines $18 in int'l market.
---
KARACHI: The gold price in Pakistan recorded a small gain on Thursday, gaining Rs150 per tola and Rs128 per 10 grams. 
Data released by the All Pakistan Sarafa Gems and Jewellers Association (APSGJA) showed that the price of gold settled at Rs155,850 and Rs133,616 per 10 grams. 
Cumulatively, the price of gold rose Rs6,400 per tola in the six sessions (Thursday to Tuesday). Meanwhile, it closed at Rs155,700 per tola a day earlier. 
In the international market, the price of yellow metal declined by $18 per ounce to settle at $1,686.
Gold rates in Pakistan are around Rs1,000 below the cost compared to the rate in the Dubai market.
Meanwhile, silver prices in the domestic market remained unchanged at Rs1,570 per tola and Rs1,346.02 per 10 grams.