Market fails to attract investors as they prefer to remain on the sidelines.
KSE-100 index closes at 41,679.49 points, falling 0.64% or 269 points.
AHL expects market to remain range-bound in the upcoming week.
---
KARACHI: The Pakistan Stock Exchange (PSX) witnessed tepid trading in the outgoing week as weak economic indicators and political uncertainty kept market participants mostly on the sidelines. Resultantly, the KSE-100 index declined 269 points or 0.64% to end the week at 41,679.49 points.

The first trading session of the week saw the market declining nearly 100 points as a strengthening dollar coupled with political turmoil dented investor sentiments.
Concerns regarding inflation and no further fund inflows from friendly nations continued to mount, limiting market participants' ability to discount growth fears.

The market bounced back over the next two days and cushioned the dip amid robust remittance data and political developments, however, trading remained mostly range-bound.
Former prime minister Imran Khan expressed his willingness to speak to the government if it agreed to hold free and fair elections. This news in particular spurred bullish trading at the PSX.
Robust data of foreign remittances in August 2022 aided the KSE-100 index to recoup some of the losses. Receipt of over $2.7 billion from overseas Pakistanis in the past month painted an optimistic picture of the economy and motivated investors to assume fresh positions.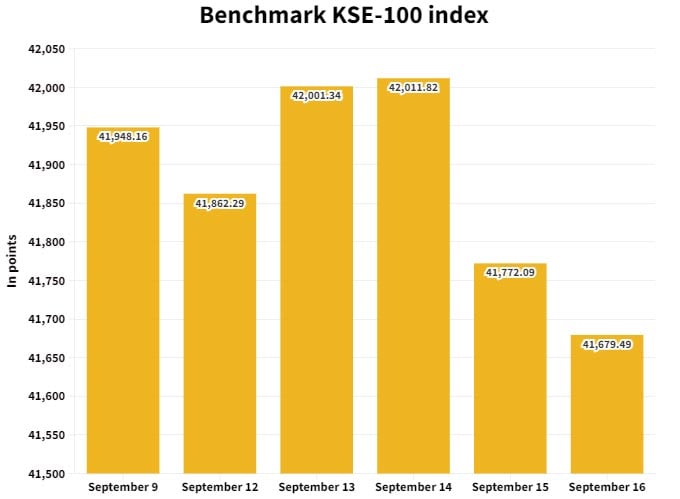 However, on Wednesday, investors offloaded their holdings, searching for positive triggers to steer the bourse forward, but the lack of positive cues gave way to selling pressure with many opting to remain on the sidelines.
The index reversed its direction once again in the last two sessions and reported losses owing to further depreciation in the rupee and depleting foreign exchange reserves which sparked panic regarding the economic situation.
Other major developments during the week were: oil, and food imports rose to $5 billion in July-August, July-August textile group exports rose 4.18% to $3.056 billion year-on-year, Pakistan LNG Limited (PLL) sought exemption from Public Procurement Regulatory Authority (PPRA) rules, the government unveiled solar PV projects policy, and All Pakistan Textile Mills Associations (APTMA) estimated $1.5 billion cotton production losses
Meanwhile, foreign buying was witnessed this week, clocking in at $13.8 million against a net sell of $2.82 million recorded last week. Buying was witnessed in technology ($11 million), and other sectors ($3.1 million).
On the domestic front, major selling was reported by insurance ($8.5 million), followed by mutual funds ($3.6 million).
During the week under review, average volumes clocked in at 183 million shares (up by 32% week-on-week), while the average value traded settled at $30 million (up by 46% week-on-week).
Major gainers and losers of the week
Sector-wise negative contributions came from commercial banks (-172 points), fertiliser (-89 points), cement (-76 points), oil and gas exploration companies (-75 points), and food and personal care products (-43 points).
On the flip side, positive contributions came from technology and communication (+231 points), power generation and distribution (+55 points), and automobile assembler (+29 points).
Scrip-wise major losers were HBL (-81 points), Fauji Fertiliser (-54 points), Meezan Bank (-35 points), Pakistan Petroleum (-28 points), and Habib Metro Bank (-24 points).
Meanwhile, major gainers were TRG Pakistan (+248 points), Hubco (+51 points), UBL (+25 points), Millat Tractors (+24 points), and Colgate-Palmolive (+18 points).
Outlook for next week
A report from Arif Habib Limited stated that the market is expected to remain range-bound in the upcoming week amid concerns over rupee depreciation and inflation.
"Valuations across the board particularly in blue chips have reached attractive levels," it said, advising investors to invest in blue chip scrips.
"The KSE-100 is currently trading at a PER of 4.2x (2023) compared to the Asia-Pacific regional average of 12.2x while offering a dividend yield of 9.8% versus 2.8% offered by the region," the brokerage house stated.