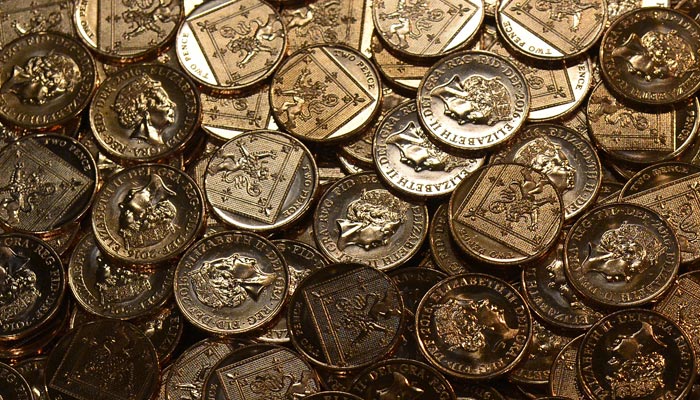 Gold price settles at Rs143,700 per tola.
Pakistan meets almost all its gold demand through imports.
In global market, price of yellow metal falls  by $13 per ounce.
---
KARACHI: Gold bounced back on Wednesday as bargain hunters took advantage of recent uncertainty, but the precious metal's outlook was still clouded by prospects of aggressive rate hikes next month.

Data released by the All Pakistan Sarafa Gems and Jewellers Association (APSGJA) showed that the price of the precious metal rose by Rs1,850 per tola and Rs1,586 per 10 grams to settle at Rs143,700 per tola and Rs123,200 per 10 grams, respectively.
Pakistan meets almost all its gold demand through imports, and traders follow its international price in setting rates in the country. Jewellers import the metal against the US dollar and UAE dirham before converting its price into rupees.
Since the dollar has dropped by over Rs5 in the open market, the association has adjusted down the bullion price accordingly.
In the international market, the price of the yellow metal fell by $13 per ounce settling at $1,624 — their lowest level since April 2020 — as a rally in the US dollar and Treasury yields on prospects of more aggressive rate hikes by the Federal Reserve diminished its appeal.

Gold rates in Pakistan are around Rs2,000 below the cost compared to the rate in the Dubai market.
Meanwhile, silver prices in the domestic market remained unchanged at Rs1,570 per tola and Rs1,346.02 per 10 grams.