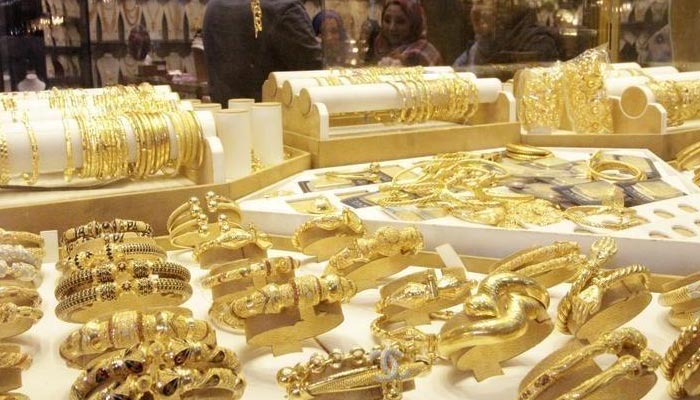 Gold price is climbing high in line with depreciation of rupee.
Precious commodity is expected to maintain uptrend.
Silver prices remain unchanged in local market.
---
Gold price rose to a fresh record high of Rs164,000 per tola on Monday with investors scurrying for a safe haven after a softening currency and bleak economic data underlined the shaky pace of growth.

Data released by the All Pakistan Sarafa Gems and Jewellers Association (APSGJA) showed the price of gold surged by Rs700 per tola and Rs601 per 10 grams to settle at Rs164,000 and Rs140,604.
Last week, the yellow metal touched a record high of Rs163,500 per tola in the local market as the stability of the Pakistan rupee against the US dollar shifted investors' focus towards a safe-haven asset.
Cumulatively, the price of gold surged by Rs3,750, or 2.35%, per tola during the week ended December 3, 2022.
Gold price is climbing high in the local bullion market in line with the prices in the international market and the depreciation of the Pakistani rupee against the US dollar.
The precious commodity is expected to maintain an uptrend as international prices are once again eyeing a $1,800 mark while there is "no hope of stability in local currency" till the country receives funds from friendly countries and clears the ninth review of the International Monetary Fund (IMF).

The association, however, stated that although gold hit an all-time high in Pakistan, its price still stood below cost. Gold is cheaper by Rs2,000 per tola compared to its price in Dubai.
The latest price for local markets was determined to keep in view the prices at which trades took place among buyers and sellers.
However, gold dealers lamented that their businesses are suffering because of a lack of purchasing power despite the wedding season.
In the international market, the price of the yellow metal pulled back slightly from a five-month high on Monday as the US dollar recouped some losses, although the metal still held near the key $1,800 level, buoyed by news of top bullion consumer China relaxing its stringent COVID-19 restrictions.
Gold price registered a meagre decline of $4 per ounce settling at $1,794.
Meanwhile, silver prices in the domestic market remained unchanged at Rs1,780 per tola and Rs1,526.06 per 10 grams.