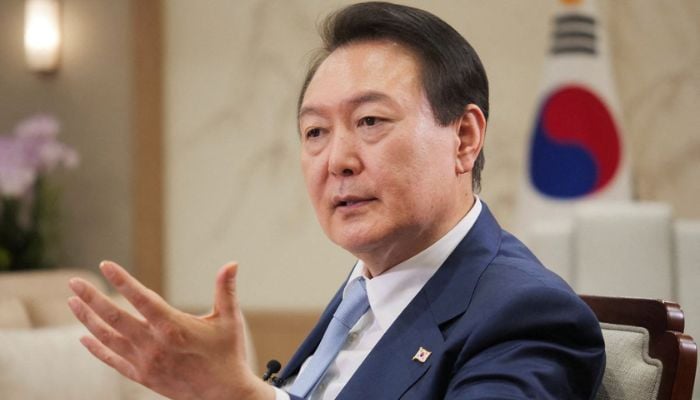 SEOUL: South Korean President Yoon Suk-yeol said on Wednesday he would consider suspending a 2018 inter-Korean military pact if the North violates its airspace again, his office said, amid tension over a recent intrusion by North Korean drones.
Yoon made the comment after being briefed on countermeasures to North Korean drones that crossed into the South last week, calling for building an "overwhelming response capability that goes beyond proportional levels," according to his press secretary, Kim Eun-hye.
"During the meeting, he instructed the national security office to consider suspending the validity of the military agreement if North Korea stages another provocation invading our territory," Kim told a briefing.
The 2018 deal, sealed on the sidelines of a summit between North Korean leader Kim Jong Un and South Korean President Moon Jae-in, calls for ceasing "all hostile acts", creating a no-fly zone around the border, and removing landmines and guard posts within the heavily fortified Demilitarised Zone. The government has not said how many mines and posts were removed, citing security concerns.
Abandoning the pact could mean the return of the guard posts, live-fire drills in the former no-fly zone and propaganda broadcasts across the border — all of which drew angry responses from Pyongyang before the pact.
Inter-Korean relations have been testy for decades but have grown even more tense since Yoon took office in May pledging a tougher line against Pyongyang.
During the election campaign last year, Yoon said Pyongyang had repeatedly breached the agreement with missile launches and warned he might scrap it. He said after taking office that the pact's fate hinges on the North's actions.
Yoon has criticised the military's handling of the drone incident, in part blaming the previous administration's reliance on the 2018 pact.

He has urged the military to stand ready to retaliate, even if that means "risking escalation."
Yoon ordered the defence minister to launch a comprehensive drone unit that performs multi-purpose missions, including surveillance, reconnaissance and electronic warfare, and to set up a system to mass-produce small drones that are difficult to detect within the year, Kim said.
"He also called for accelerating the development of stealthy drones this year and quickly establishing a drone killer system," she said.
South Korea's army operated two drone squadrons within its Ground Operations Command since 2018, but they were primarily designed to prepare for future warfare.
The defence ministry has said it plans to launch another unit focusing on surveillance and reconnaissance functions, especially targeting smaller drones.
"The upcoming unit would carry entirely different tasks, conducting operations in various areas," Defence Minister Lee Jong-sup told parliament last week.
To boost its anti-drone capability, the ministry announced plans last week it would spend 560 billion won ($440 million) over the next five years on technology such as airborne laser weapons and signal jammers.