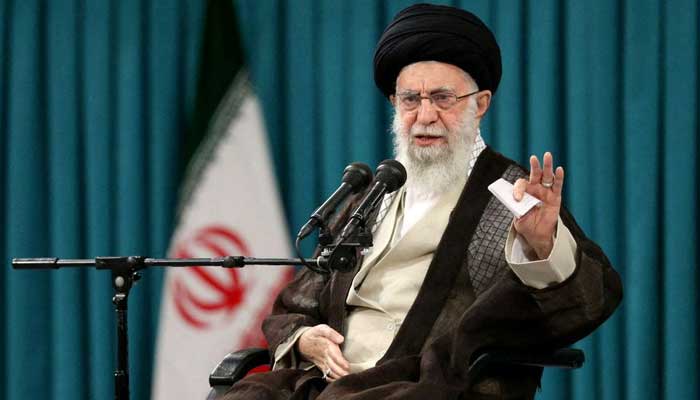 TEHRAN: Iran warned France on Wednesday it would respond after "insulting" cartoons depicting Iran's supreme leader Ayatollah Ali Khamenei were published in the satirical magazine Charlie Hebdo.

The weekly had published dozens of cartoons on the same day ridiculing the highest religious and political figure in the Islamic republic.
The magazine said the cartoons were part of a competition it launched in December in support of the protests triggered by the September 16 death in custody of Mahsa Amini, an Iranian Kurd who was arrested for allegedly violating the country's strict dress code for women.
"The insulting and indecent act of a French publication in publishing cartoons against the religious and political authority will not go without an effective and decisive response," tweeted Iran's Foreign Minister Hossein Amir-Abdollahian.
"We will not allow the French government to go beyond its bounds. They have definitely chosen the wrong path".
The French magazine said the contest aimed "to support the struggle of Iranians who are fighting for their freedom".
Iranian authorities say hundreds of people, including members of the security forces, have been killed and thousands arrested in what they generally describe as "riots", and have accused hostile foreign powers and opposition groups of stoking the unrest.
Controversial Charlie Hebdo 

The French satire magazine is not new to controversy, especially in the Muslim world. In 2015, it published blasphemous sketches, prompting an attack on the magazine's office on January 7, 2015, in which 12 persons were killed.
The issue later resurfaced in 2020 when the magazine republished the sketches on September 2 to coincide with the trial of 14 people accused of helping the attackers carry out their gun rampage against the magazine staffers.
A month later, a history teacher in France was beheaded after he had shown the caricatures in his class. In a ceremony dedicated to the teacher, French President Emmanuel Macron had vowed not to "give up [the] cartoons" and also made contentious remarks against "Islamists", who he said "want our future".
The French president's remarks had drawn criticism from the Muslim World.