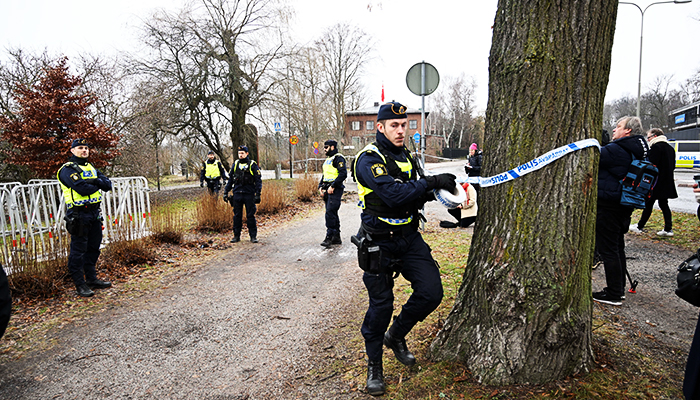 Pakistan says act hurt 1.5 billion-strong Muslim community.
FO asks global community to work against Islamophobia.
Rasmus Paludan burned Holy Quran in Stockholm.
---
Pakistan Saturday strongly condemned the "abhorrent" act of the desecration of the Holy Quran in Sweden, stressing that the move hurt the sentiments of the 1.5 billion-strong Muslim community across the globe.
The country's condemnation came after Rasmus Paludan, leader of the Danish far-right party Stram Kurs (Hard Line), burned the Holy Quran outside the Turkish Embassy in Stockholm.
Türkiye and several Arab countries including Saudi Arabia, Jordan and Kuwait denounced the Quran burning. "Saudi Arabia calls for spreading the values of dialogue, tolerance, and coexistence, and rejects hatred and extremism," the Saudi Foreign Ministry said in a statement.
The move has drawn severe criticism from Türkiye as well, with Ankara calling off a visit by Sweden's defence minister and mentioning that "it's a racist action, it's not about freedom of expression".
In its statement, Pakistan's Foreign Office said that this senseless and provocative Islamophobic act hurts the religious sensitivities of billions of Muslims around the world.
Such actions, the ministry said, are not covered under any legitimate expression of the right to freedom of expression or opinion, which carries responsibilities under international human rights law, such as the obligation not to carry out hate speech and incite people to violence.
"Islam is a religion of peace, and Muslims, including in Pakistan, believe in respecting all religions. These principles must be supported by all," the Foreign Office said.
The ministry called upon the international community to show a common resolve against Islamophobia, xenophobia, intolerance, and incitement to violence on the basis of religion or belief, and work together for promoting inter-faith harmony and peaceful coexistence.
Pakistan's concerns are being conveyed to the authorities in Sweden, it said, urging them to be mindful of the sentiments of Muslims and take steps to prevent Islamophobic acts.
Paludan, who also has Swedish citizenship, has held a number of demonstrations in the past where he has burned the Holy Quran.
In the permit he obtained from police, it says his protest was held against Islam and what it called Turkish President Tayyip Erdogan's attempt to influence freedom of expression in Sweden.
In April last year, Paludan's announcement of a Holy Quran burning "tour" for the holy month of Ramadan sparked riots across Sweden.