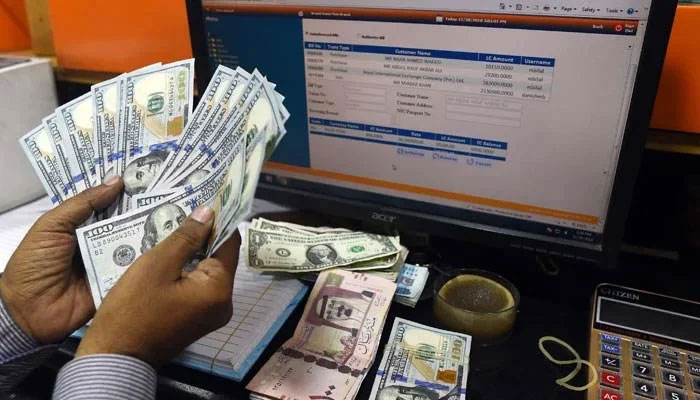 Dollar closes at 243 in open market.
Interbank sees meagre change.
Cap removed to dent grey market.
---
KARACHI: Following the removal of the unofficial cap on the greenback, the rupee fell further against the dollar on Wednesday, depreciating almost 1%.
The rupee closed at 243 against the dollar, falling 2.25 or 0.92%, the Exchange Companies Association of Pakistan (ECAP) said in a statement, compared with a range of 237.75-240 at the close on Tuesday.
In the interbank market, according to the State Bank of Pakistan (SBP), the greenback closed at 230.89 and lost 0.58 or 0.21% of its value, compared with Tuesday's close of 230.40.
The move towards a market-based exchange rate should please the International Monetary Fund (IMF), as that is one of the conditions that the multilateral lender has set before it agrees to unlock a stalled bail-out programme for Pakistan.
Finance Minister Ishaq Dar's attempts to defend the rupee, including currency market intervention, had run counter to the IMF's advice.
Battling the highest inflation in decades, the central bank has raised interest rates sharply, but the country has barely enough foreign exchange reserves to cover three weeks of imports and is struggling to meet its external financing obligations.
The ECAP said late on Tuesday it was lifting the cap on the currency in the interest of the country.
Before the cap on the rupee was removed, markets eyed three different rates to assess its value — the state bank's official rate, the one assessed by the foreign exchange companies and the black market rate.
ECAP President Malik Bostan told Reuters that the central bank had given an assurance at a meeting that commercial banks would be instructed to supply exchange companies with dollars within a week.
"We're facing a shortage. We do not have physical dollars," Bostan said. "People aren't selling dollars. They're only buying."
He said the removal of the cap would curb black market trade, though it would take time to bridge the gap.
"The black market rate is still sticky in the range of 260-270. The decision of exchange companies has not had any impact as such," said Fahad Rauf, head of research at Ismail Iqbal Securities.
---
— Additional input from Reuters