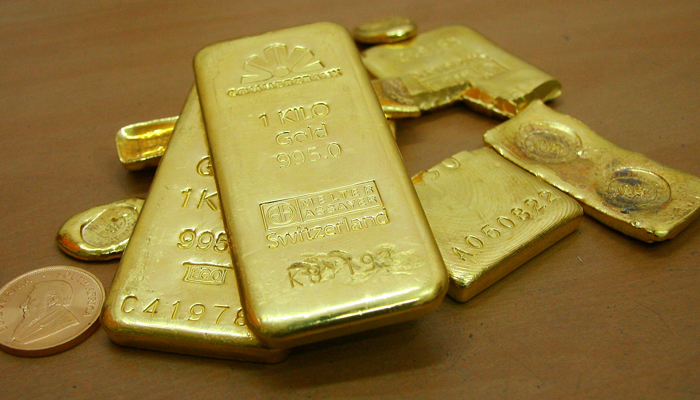 Gold price settles at Rs195,500 per tola in Pakistan.
Local gold is "undercost" by Rs1,500 per tola.
Silver price rises by Rs50 per tola in local market.
---
Gold surged to record highs on Thursday as an intensifying economic turmoil and a weaker rupee sent investors scurrying to the safety of bullion to hedge against the risks to Pakistan's economy already reeling from the political crisis.

Data released by All-Pakistan Sarafa Gems and Jewellers Association (APSGJA) showed that the price of gold (24 carats) surged by Rs4,900 per tola and Rs4,201 per 10 grams to settle at Rs195,500 per tola and Rs167,610 per 10 grams, respectively.
The jewellers' body also said that local gold was "undercost" by Rs1,500 per tola in Pakistan, compared to the Dubai bullion market.
Financial pundits said the gold was scaling new peaks every day because investors have gone gaga over it because another safe bet — the dollar — was currently hard to come by owing to a myriad of reasons ranging from allegedly artificially maintained exchange rate and a massive disparity between legal and illegal money markets.
They added that the precious metal generally tracks world prices, which were under pressure due to the US Federal Reserve's hawkish measures.
Pakistan, the world's fifth-most populous nation is dealing with a range of economic challenges, including a shortage of dollars and a delay in the International Monetary Fund's loan programme for the country.
In the international market, gold price gained $11 per ounce to settle at $1,936 despite the investors awaiting a host of US economic data for clues on the Federal Reserve's strategy on interest rate hikes
Gold demand in Pakistan has jumped manifold. Pakistan meets almost all its gold demand through imports, and traders follow its international price in setting rates in the country. Jewellers import the metal against the US dollar and UAE dirham before converting its price into rupees.
Earlier, they were parking their savings in the US dollar to avoid the impact of rupee devaluation at a time of high inflation.
Jewellers believe that the investors started moving to the bullion market following the shortfall of the dollar in the open market and expect the precious commodity to touch Rs200,000 per tola mark in the days to come.
Meanwhile, silver prices in the domestic market surged by Rs50 per tola and Rs42.87 per 10 grams to settle at Rs2,150 and Rs1,843.28, respectively.