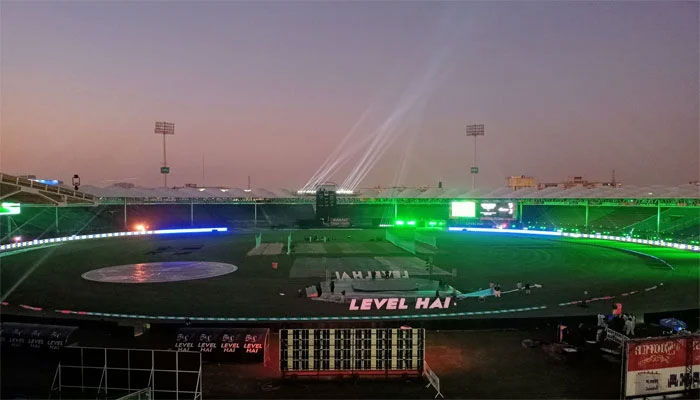 KARACHI: With the eighth season of the Pakistan Super League (PSL) just around the corner, preparations for the series are in full swing to ensure that the upcoming season is just as spectacular as previous ones.
For the first time in PSL history, the opening ceremony is being held in Multan. The mega opener at the Multan Cricket Stadium is scheduled to take place on February 13.
According to sources, Sahir Ali Bagga and Aima Baig will perform in the opening ceremony alongside the PSL 8 official-anthem singers — Asim Azhar, Shae Gill, and Faris Shafi.
The official PSL Twitter account earlier today announced that the three coke studio singers had been taken on board to "take the PSL anthem to the next level."
The sources added that for the first time in PSL's history, augmented reality (AR) and virtual reality (VR) would be used in the opening ceremony, adding that a light show with the help of drones has also been planned to amuse cricket fans across the world.
Pakistan Cricket Board (PCB), under the leadership of Najam Sethi, is determined to make this year's PSL bigger and better. In his press conferences after taking charge as PCB head once again, Sethi reiterated that there is a need to revamp PSL as a brand.
"The PSL 8 will be a massive event for the PCB, taking place at the four iconic venues with the world's best T20 cricketers in action. We aim to make the PSL bigger, better and stronger than ever before with the overarching ambition to make it the first-choice event for leading T20 cricketers," he had said.
Sethi and his team increased PSL's branding budget from $100,000 to $1 million.
Exhibition Match
Last week, an exhibition match was held in Quetta to hype up the upcoming matches starting February 13. Despite the biting cold, over 15,000 fans witnessed the historic game, and 4,000 security personnel had to be deployed for safety.
The exhibition game was played between Quetta Gladiators and Peshawar Zalmi on February 5. After an intense game that left fans on the edge of their seats, the Gladiators defeated the Zalmis by three runs.