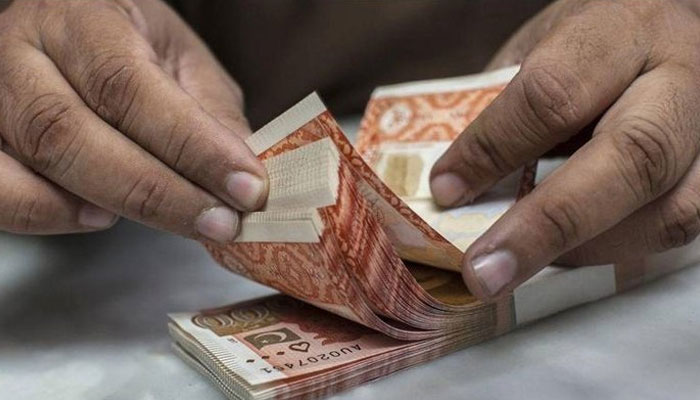 Rupee closes at 261.90 against the US dollar.
In the open market, local unit closes at 269.
Investors take cue from news regarding IMF programme.
---
The Pakistani rupee bounced back on Wednesday after Finance Minister Ishaq Dar announced that Islamabad is expected to receive $700 million from China this week.

The local unit closed interbank market trade at 261.90 against the US dollar after registering a meagre increase of Re0.61, or 0.23%, compared to Tuesday's close of 262.51.
Taking to his Twitter handle, the finance czar announced that formalities have been completed and the Board of China Development Bank has approved the facility of $700 million for Pakistan.

"This amount is expected to be received this week by the SBP which will shore up its reserves," he wrote.

Pakistan is in dire need of funds as it battles a wrenching economic crisis as the central bank-held foreign exchange reserves barely cover one month of imports.

Sources also told The News that two more commercial loans were expected to be re-financed including $500 million and $800 million. So in totality, Pakistan is eyeing to get re-financing of Chinese loans up to $2 billion by the end of February or the first week of March 2023.

Moreover, further assurance from Prime Minister Shehbaz Sharif regarding the revival of the International Monetary Fund (IMF) programme boosted the market's sentiment as Pakistan is desperate to unlock the next tranche of a $6.5 billion loan facility.

In the open market, the local currency closed the day at 269 — the same as the day earlier.
Globally, the dollar rose slightly on Wednesday, continuing to trade near six-week highs on the back of strong economic data.
The dollar index was up 0.13% at 104.28, not far off the six-week high of 104.67 hit at the end of last week.
Investors' focus now turns to the release of the minutes from the Fed's latest meeting later on Wednesday, which could offer more insight into policymakers' plans.
---
— Additional input from Reuters