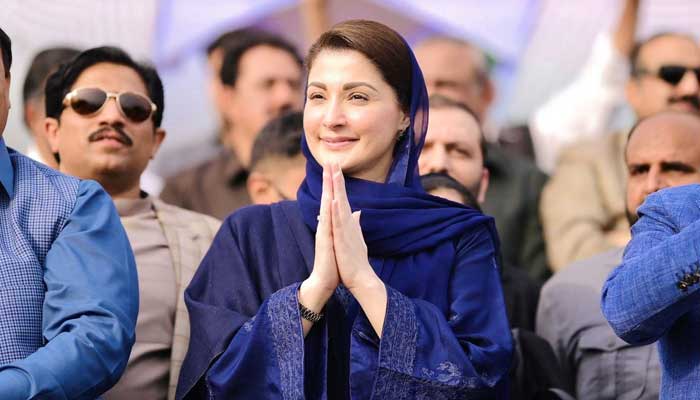 Sukkur court summons PML-N stalwart on March 10.
Petitioner seeks case registered under section 22-A 6 and 22-B.
Maryam tried inciting people towards revolt, states petition. 
---
An additional sessions court in Sukkur Wednesday sent a notice to Pakistan Muslim League-Nawaz (PML-N) Senior Vice-President and Chief Organiser Maryam Nawaz, summoning her on March 10 over allegations of insulting "state institutions".
The notice was sent via fifth Additional Sessions Judge Mumtaz Solangi in Sukkur after Pakistan Tehreek-e-Insaf's (PTI) District President Zaheer Muhammad filed a petition in the court, seeking registration of a case against the PML-N leader under section 22-A 6 and 22-B.
Maryam, as per the notice's contents, has been summoned before the court along with the Station House Officer (SHO) police station Model Town, director of the Federal Investigation Agency (FIA) Islamabad, FIA Sukkur deputy director, SHO/in-charge FIA cybercrime Sukkur, and Senior Superintendent of Police/Deputy Superintendent of Police Complaint Cell Sukkur.
The court has directed respondents, including Maryam, to submit a detailed report and asked them to appear on the aforementioned date at 8:30am.

The petition, filed by Zaheer, a day earlier, stated that the PML-N scion spoke against the institutions in her speech. It added that she tried inciting people towards revolt against the institutions.
"That proposed accused Maryam Nawaz Sharif addressed the people of [Sargodha] and cued the alleged pictures included ex-Inter Services Intelligence (ISI) chief Lieutenant General (retd) Faiz Hamid, former chief justice Asif Saeed Khosa, Justice (retd) Saqib Nisar, and presently two sitting Supreme Court judges who are part of a top court bench hearing a suo motu case to determine who has the constitutional responsibility and authority to announce the date for elections in Punjab and Khyber Pakhtunkhwa," the plea read.
In his application to the court, the petitioner stated that the PML-N stalwart "addressed hate speech with the intention to provoke the general public to spread hate and chaos against the highest state institutions".
It mentioned that the petitioner approached the FIA director to lodge a first information report (FIR) against Maryam, but he first "kept the applicant in hallow hopes and then clearly refused".
Zaheer, in his plea, also wrote about approaching Sukkur SSP, but to no avail. Therefore, he has now requested the court to direct the FIA director to register the FIR against the PML-N chief organiser.