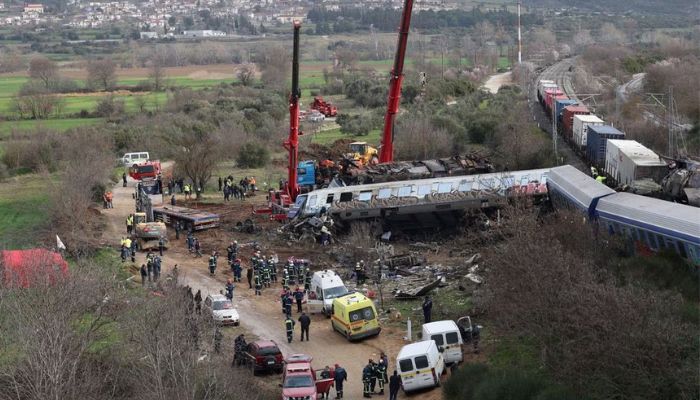 Disbelief turns to anger over rail tragedy.
At least 36 die in head-on rail collision.
"Some bastard has to pay for this".
---
LARISSA: A station master on duty during Greece's deadliest train accident is to testify Thursday in the central city of Larissa over the disaster that claimed dozens of lives, plunging the country into mourning.
The 59-year-old will appear before a prosecutor to explain how a passenger train with over 350 people on board was allowed to run on the same line as a freight train for several kilometres.
The two trains collided near a tunnel outside Larissa before midnight on Tuesday. Two carriages were crushed and a third caught fire, trapping people inside.
"It was a student train, full of kids...in their 20s," Costas Bargiotas, a senior orthopaedic doctor at Larissa General Hospital, told Skai TV.
"It was truly shocking... the carriages crumpled like paper," he said.
Prime Minister Kyriakos Mitsotakis — who will seek re-election this year with ballots expected in April — said it was a "terrible train accident without precedent" in Greece, promising that the tragedy would be "fully" investigated.
'Tragic human error'
"Everything shows that the drama was, sadly, mainly due to a tragic human error," Mitsotakis said in a televised address on Wednesday after visiting the disaster site.
Authorities have declared three days of national mourning.
Passengers have described scenes of horror and chaos, dodging smashed glass and debris as the train keeled over, and forced to break windows to climb out.
"It was a nightmare... I'm still shaking," 22-year-old passenger Angelos told AFP, adding that the collision felt "like a strong earthquake".
Rescuers at the scene said they had never dealt with a disaster of this magnitude before. Many bodies were charred beyond recognition and some passengers were being identified from body parts.
"Unfortunately, some of these people will only be able to be identified" via DNA, Larissa mayor Apostolos Kalogiannis told Skai TV.
"I've never seen anything like this in my entire life," said one rescue worker, emerging from the wreckage.
Several people are still believed to be missing — including two Cyprus nationals — though authorities have not released an official estimate.
Seventeen biological samples have been collected from remains, and from 23 relatives seeking a match, the police said.
"It was the train of terror," Pavlos Aslanidis, whose son is among the missing along with a friend, told reporters.
Rescuers were forced to call off the search late on Wednesday to give exhausted crews and crane operators a respite.
Greece's transport minister submitted his resignation just hours after the accident.
"When something so tragic happens, we cannot continue as if nothing had happened," Kostas Karamanlis said in a public statement.
But train unionists said the safety shortcomings of the Athens-Thessaloniki railway line had been known for years.
In an open letter last month, train staff said track safety systems were incomplete and poorly maintained.
A safety supervisor had resigned last year, warning that infrastructure upgrades pending since 2016 were incomplete and that train speeds of up to 200 kilometres (124 miles) an hour were unsafe.
Five years after Greek rail operator Trainose was sold to Ferrovie Dello Stato Italiane and became Hellenic Train, safety systems on the Athens-Thessaloniki line are still not fully automated.
Protests were held in Wednesday evening at the Thessaloniki train station, the city of Larissa and outside the Athens offices of the railway's Italian-owned operating company, Hellenic Train, where protesters threw rocks at the building and at police.
In Larissa, demonstrators held a silent vigil and brought white roses to form the word Tempe, the name of the valley where the accident took place.
Nikos Savva, a medical student from Cyprus, told AFP that the disaster was only a matter of time.
"The rail network looked problematic, with worn down, badly paid staff," he said.
The station operator will be charged with negligent homicide on Thursday and faces a life sentence if convicted.
But Savva said the man "should not pay the price for a whole ailing system."
"This is an inadmissible accident. We've known this situation for 30 years," Larissa doctor Bargiotas said.