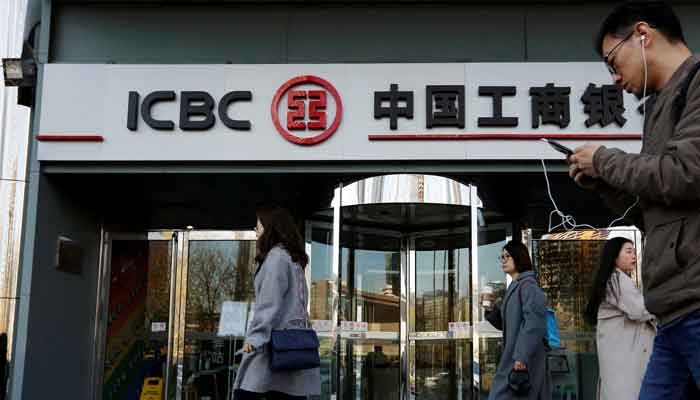 Ishaq Dar says $500m have been received by SBP.
The amount is first instalment of $1.3bn facility approved by ICBC.
Pakistan will receive second instalment of $500m within 10 days.
---
Pakistan received $500 million from Chinese bank, Finance Minister Ishaq Dar announced late Friday, as part of the $1.3 billion facility approved by the Industrial and Commercial Bank of China (ICBC).
The cash-strapped country has faced growing economic challenges, with high inflation, sliding forex reserves, a widening current account deficit and a depreciating currency.
"Formalities completed [and] Chinese Bank, ICBC approved rollover of $1.3 billion facility which has been repaid by Pakistan to ICBC in recent months," the finance czar announced on Twitter. 
He said that the facility would be disbursed in three instalments, first one of $500 million has been received by the State Bank of Pakistan.
"It will increase forex reserves!" Dar added. 

Foreign exchange reserves were at $3.8 billion as of February 24, just enough for less than a month of imports. While the liquid foreign exchange reserves stand at around $9 billion which include $5.5 billion in net reserves held by commercial banks.
Hours before his announcement, the finance minister revealed that China has renewed a facility under which Pakistan expected an additional inflow of $500 million in the "next few days".
Highlighting the Pakistan Democratic Movement (PDM)-led government's economic achievements, Dar said that the foreign exchange reserves held by the SBP climbed to $3.8 billion from $2.8 billion — recorded last month. He maintained that the government returned $6.5 billion of foreign debt during the current fiscal year.
Pakistan has made payments of around $5.5 billion (excluding the $1 billion sukuk payment). These include $2 billion to China Development Bank and ICBC and $3.5 billion have been given to banks in other countries," he said.
"Debt is usually rolled over but the debt stock does not reduce. We are reducing debt stock," he said. "Formalities with ICBC were completed last night. We returned $1.3 billion to it and this facility has been renewed and we will receive the amount back in three tranches."
"We paid back $1.3 billion in three tranches — $500 million, $500 million and $300 million. We will receive it back the same way. Pakistan will get $500 million in two-three days. We might receive it on Monday. Then we will get an additional $500 million in 10 days."