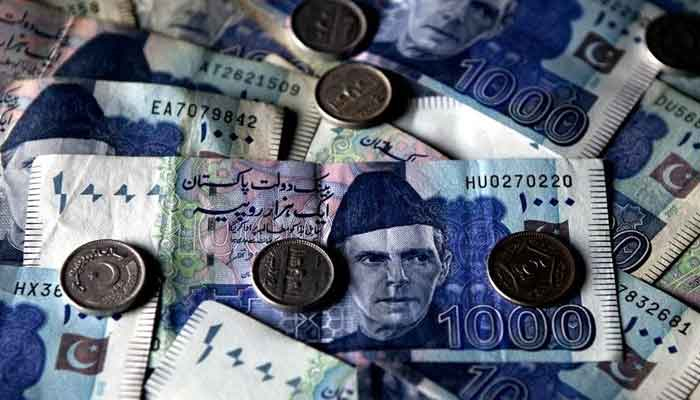 The rupee gained further ground against the US dollar as Pakistan was able to secure $500 million from the Industrial and Commercial Bank of China (ICBC) and the expectation of striking a deal with the International Monetary Fund (IMF).
The local currency gained by Rs3.46 against the greenback in the interbank market during the intraday trade. The local unit was seen changing hands 275 at around 11:47pm. 
The rupee closed the week on Friday by gaining significant ground against the US dollar. According to the State Bank of Pakistan (SBP), it appreciated by Rs6.63, or 2.38% in the interbank market and closed at 278.46. 
Speaking to Geo.tv, Exchange Companies Association of Pakistan (ECAP) General Secretary Zafar Paracha citing a few reasons for the earlier dollar appreciation said that the hype was created by the country's financial institutions and international players that manipulated and caused the rates to increase. 

"Currently, the dollar decreased against the rupee due to the market correction and it is still in the ebb and flow.  Financial credentials cannot be changed in one day which can cause the currency to depreciate or appreciate at such a scale," said Paracha.
The destabilised currency damages Pakistan's image and foreign direct investment (FDI) and local investors are discouraged due to this reason, he added.  
He anticipated that keeping in view the IMF agreement and the inflows from the friendly countries, the dollar should remain in the range of 260 to 265. 
Paracha also mentioned that the political condition of Pakistan has been impacting the dollar rates which never had happened before. This time we are on the very weaker side that's why IMF is also pushing us, he noted. 
He also highlighted that the financial conditions are not bad as it is being indicated. Our inflow is $50 billion and our outflow is $60 billion, he said, adding that Pakistan requires $10 to 15 billion which has been halted. 
"If we had managed it well, reducing our expenditures and the subsidies of $17.4 billion which the government gives to our elites then it would make a huge impact", he maintained. 
There is a very dire need of increasing our tax base, not the tax rate. No one except the salaried class and big companies pay the tax. Therefore, the government need to increase the tax base, he concluded.
Earlier today, a government official expressed hope of striking a deal with the Washington-based lender. 
Another official assured that Pakistan was expecting to strike the staff-level agreement (SLA) with the IMF in the next few days, however, the Fund was reluctant to give any time frame for finalising the agreement.