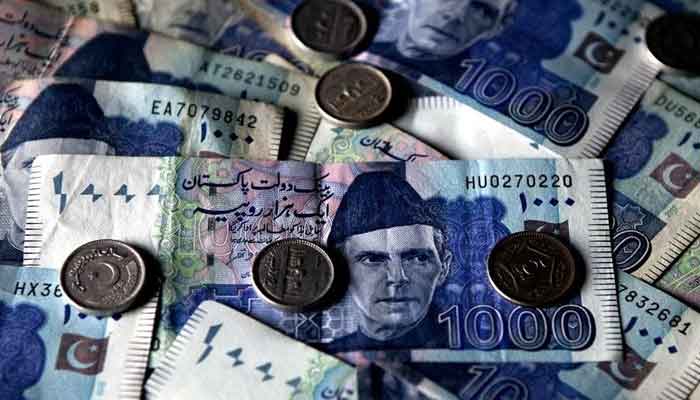 Rupee appreciates by Rs6.63 against dollar in interbank market.
Local currency closes at 278.46 in interbank market.
Rupee had slumped by nearly Rs19 against greenback a day earlier.
---
KARACHI: The Pakistan rupee gained significant ground against the US dollar after Finance Minister Ishaq Dar's assurances of striking a deal with the International Monetary Fund (IMF) next week. 
The local currency appreciated by Rs6.63, or 2.38%, in the interbank market and closed at 278.46 against the greenback, as per the State Bank of Pakistan (SBP). 

On Thursday, the rupee slumped by nearly Rs19 against the US dollar due to the central bank's monetary policy review and concerns over a stalled IMF deal.
The rupee slumped by Rs18.98 or 6.66% to close at 285.09 against the dollar in the interbank market as per the State Bank of Pakistan (SBP), down from Wednesday's close of Rs266.11.
Speaking to Geo.tv, ECAP General Secretary Zafar Paracha cited a few reasons for the dollar depreciation, saying that the IMF urged Pakistan to trade the dollar at the rate it was being sold near the Afghan border.
"In other words, the IMF had stated that rather than the interbank rate or the open market, our true rate should be the grey market rate," he added.
A day earlier, Dar had assured that Pakistan would strike a staff-level agreement with the Washington-based lender next week as the negotiations are about to conclude.
The finance minister — who took charge in September last year after Miftah Ismail was removed — also said that the economy is headed in the right direction and blamed miscreants for spreading rumours about Pakistan's possible default.
"Anti-Pakistan elements are spreading malicious rumors that Pakistan may default. [...] SBP forex reserves have been increasing and are almost US $1 billion higher than four weeks ago despite making all external due payments on time," FinMin Dar said. 
The finance minister added that the negotiations with IMF are about to conclude and we expect to sign SLA with the Fund by next week. "All economic indicators are slowly moving in the right direction," he added.