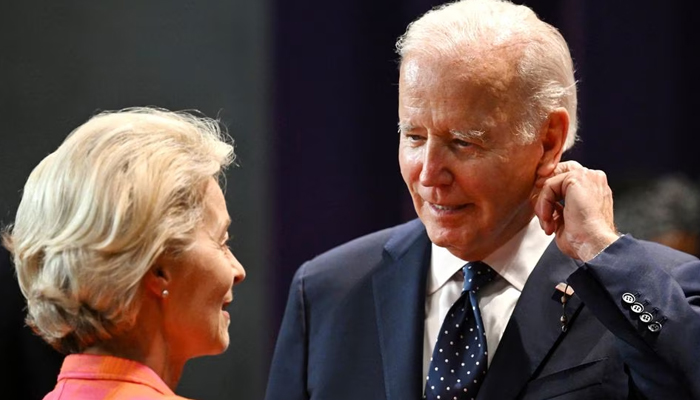 WASHINGTON: President Joe Biden and top EU official Ursula von der Leyen meet Friday to defuse a transatlantic trade dispute over subsidies for the green economy, as well as cooperation on confronting Russia.

The European Union (EU) Commission president has worked closely with Biden in forging an unprecedented response to the Russian invasion of Ukraine over the last year.
European capitals joined Washington in a united front on sanctions against Moscow and supplying weapons and aid to Ukraine. EU countries also surprised many by moving quickly to break the bloc's dependency on energy supplies from Russia.
However, tensions are swirling in Europe over the Biden administration's landmark Inflation Reduction Act (IRA), a government spending spree championing US manufacturing in climate-friendly technologies.
Amid EU alarm that the subsidies will shut out European manufacturers and hurt the energy and auto sectors, the European bloc is working on its own sets of subsidies, such as the Green Deal Industrial Plan, to promote the emerging sector.
A senior US official told reporters that Biden and Von der Leyen want to make sure that the two programs complement each other.
The leaders will express "an articulation of a shared approach and a shared set of goals," the official said, speaking on condition of anonymity.
"That isn't going to happen if our incentives and their incentives are misaligned and compete with one another in a zero-sum way."
Proof that Brussels and Washington can work together should come in the form of an announcement at the talks Friday of negotiations on the specific area of critical minerals used in electric vehicle batteries.
"We hope to be able to launch negotiations on a critical minerals agreement," the official said.
China differences
Another difficult area is how to respond to China's increasingly muscular foreign and trade policies.
The White House said that "challenges posed by the People's Republic of China" will feature prominently in the Oval Office talks.
Washington has been urging European capitals to take a firmer stand against Beijing — not just diplomatically, but also economically. However, the EU is keen to avoid rupture with China, leaving the transatlantic allies somewhat divided on how to move forward.
Elvire Fabry, an analyst at the Institute Jacques Delors, a Paris-based think tank, told AFP that the White House session will give von der Leyen a chance to show EU's desire to work with Washington, "but not in the position of follower, especially when it comes to China."
"The European position is based on wanting to maintain its own line concerning Beijing."
However, the US official stressed the cohesion between Brussels and Washington on the overall view of the China challenge.
"There is unprecedented alignment between the US and Europe," he said, predicting the two leaders will express "a focus on the need to strengthen our economic security, to respond to concrete threats to economic security" from China.