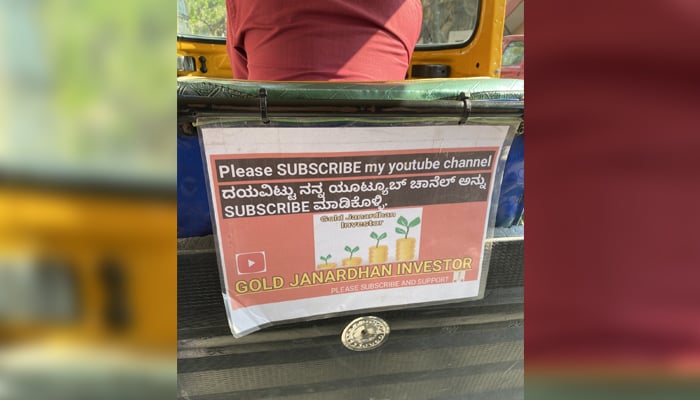 The technology capital of India's Bengaluru is full of technology lovers endeavouring to achieve their dream of becoming entrepreneurs. While hustling hard is something a lot of people do in the current competent world where not everyone is charged with fervour to be consistent with their aims.
But an auto driver named Janardhan from this city has taken the idea of hard work to another level of creativity. His story — shared on Twitter — has inspired people to follow their ambitions even in their hard times.
A tweet shared by Twitter user Sushan Koshy included a photo of Janardhan's auto along with a placard inside which read: "Please subscribe to my YouTube channel, Gold Janardhan investor. Please subscribe and support."
While Sushan, in his tweet, wrote that his Uber auto driver is a YouTube influencer, specialising in personal finance and tagged an account "@peakbengaluru" too suggesting the city's quality of producing tech entrepreneurs.
As a plethora of YouTube channels covering diverse topics, one would consider them ordinary at the first visit, however, it was surprising for Koshy when he visited Janardhan's channel.
In the preceding tweet, Koshy wrote: "His layman explanation of why central banks can't just print money is amazing. Really impressive!."
He noted while suggesting people following the channel, "Went through Autodriver Janardhan's YouTube channel and I am so mighty impressed. 1. Learnt moderately complex economic topics 2. Explained them in laymen terms 3. Created videos with graphs etc all while running his auto".