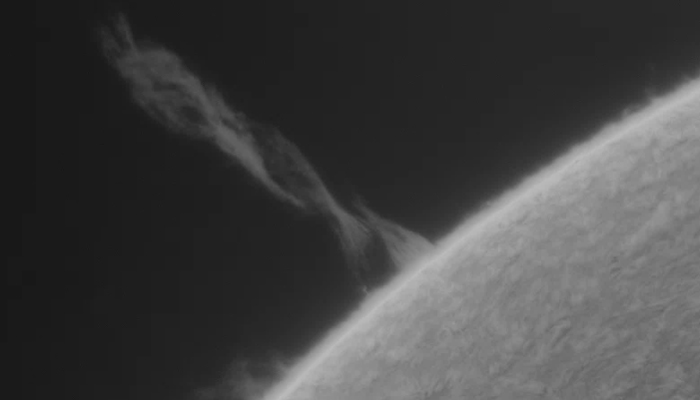 The eruption of solar plasma from the sun was captured by NASA's Solar Dynamics Observatory (SDO) on March 17, in which a swirling tornado-like movement can be seen rising.

A user shared a short video on Twitter which shows the plasma and wrote: "The tallest dust devil in the solar and system, and maybe the largest tornado ever recorded in human history. A height of around 120,000 km! Composed entirely of solar plasma, heat and magnetism. Captured today by Nasa satellite SDO aia171."
Astrophotographer Andrew McCarthy on his Twitter account told people about this amazing occurrence which would have been otherwise missed.

He wrote: "There's a "tornado" on the surface of the sun right now. Will be spending the rest of the day watching it to see what happens."
As the post surfaced, people started to speculate about possible effects it could have on Earth but McCarthy told there is nothing to be concerned about.
The plasma of hot gas mainly hydrogen and helium can be seen swirling in the video.
It appears as if a tornado is travelling vertically away from its point of origin.
"In case it needs to be said: No, this isn't going to wipe out life on Earth," he said. "This is a solar prominence and is a regular occurrence on the sun. If I saw something that was going to kill us all I'd let you know [after I was done soiling myself]."
McCarthy shared, as he came across the plasma eruption, an update the following day to note spent hours with his solar telescope observing the sight to witness the event.
NASA Sun and Space, on its Twitter also shared videos that showed several minor eruptions on the Sun. 
As described by NASA, solar prominence is a "large, bright feature extending outward from the Sun's surface". Scientists do not currently know how these prominence forms but estimate that it takes a day to form.
As said by Labrosse, an astronomer at the University of Glasgow, 'the plasma mostly moves horizontally along magnetic field lines'. He added that as the line of vision is compressed, it appears like a tornado.