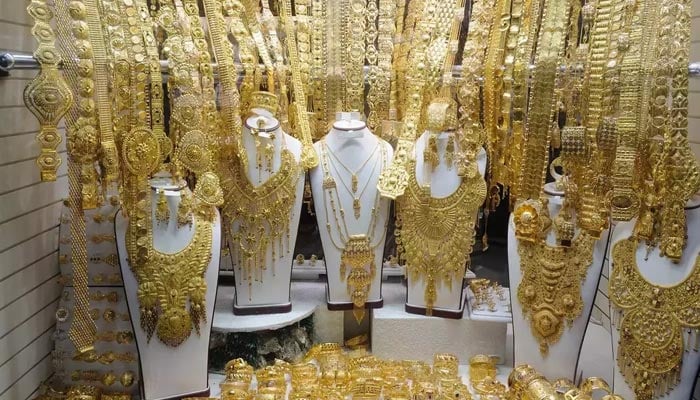 Gold price settles at Rs208,000 per tola.
It has gained Rs3,400 per tola in three sessions.
Silver price rises by Rs20 per tola.
---
Gold prices in Pakistan saw an uptick on Thursday after the investors decided to stay on the sidelines to judge the market direction.

According to the data released by All-Pakistan Sarafa Gems and Jewellers Association (APSGJA), the price of gold (24 carats) rose by Rs100 per tola and Rs85 per 10 grams to settle at Rs208,000 and Rs178,326.

Investors remained cautious as the International Monetary Fund (IMF) wants external financing commitments fulfilled from friendly countries before it releases bailout funds; however, the delay is negatively impacting the currency market which in turn is bolstering demand for gold.
Gold price moves in line with the rupee-dollar parity as the country meets almost all its gold demand through imports, and traders follow its international price in setting rates in the country.
Jewellers import the metal against the US dollar and UAE dirham before converting its price into rupees.
Moreover, a hike in seasonal demand added fuel to the rising prices in the local bullion market. Cumulatively, the precious commodity gained Rs3,400 per tola in three sessions (Tuesday-Thursday).
The association also mentioned that the price of gold is Rs9,000 per tola "undercost" in Pakistan, as compared to the Dubai market, showing that the Pakistani gold market was currently cheaper than the global.
Meanwhile, silver prices in the domestic market rose by Rs20 per tola and Rs17.15 per 10 grams to settle at Rs2,270 and Rs1,946.15, respectively.
In the international market, gold prices edged up, helped by a softer dollar as investors lie in wait for economic data to gauge the US Federal Reserve's rate-rise path.
The per-ounce price settled at $1,971 after an increase of $4. The dollar index eased 0.2%, making gold more attractive for overseas buyers.
"This is a massive week for economic data from the US and this has led to gold essentially trading in a holding pattern," StoneX analyst Rhona O'Connell said.
"The outlook for gold prices remains constructive for a return to the recent highs, as the Fed is unlikely to raise rates much higher than current levels," said Michael Hewson, chief market analyst at CMC Markets.
---
— Additional input from Reuters