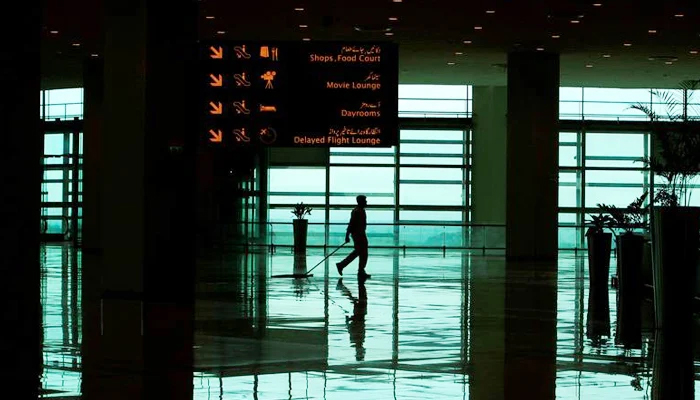 Move aims to generate foreign exchange reserves.
Govt decides to make IFC transaction adviser.
Process begins under Public-Private Partnership Act-2017.
---
ISLAMABAD: In order to improve the dwindling foreign exchange reserves, the government Thursday approved a draft regarding outsourcing three airports in Pakistan and also decided to make the International Finance Corporation (IFC) the transaction adviser.
The Economic Coordination Committee (ECC), according to a statement issued by the Finance Division, considered a summary of the Ministry of Aviation on the engagement of IFC — a part of the World Bank Group — as transaction advisor for the outsourcing of three airports.
In December last year, the coalition government decided to engage international operators to help run three major airports of Islamabad, Lahore, and Karachi with a view to attracting direct foreign investment and providing world-class facilities to passengers.
The airports that will be outsourced include Jinnah International Airport Karachi, Allama Iqbal International Airport Lahore and Islamabad International Airport.
The committee under the chair of Finance Minister Ishaq Dar kick-started the outsourcing process of three airports within the scope of the Public-Private Partnership Act-2017 to engage private investors/airport operators through a competitive and transparent process to run the airports, develop appertaining land assets and enhance avenues for commercial activities and to garner full revenue potential.
The ECC, after detailed discussion, approved the draft Transaction Advisory Agreement (TASA), reached with the IFC by the Pakistan Civil Aviation Authority (PCAA) for the outsourcing of three airports.
It should be noted that no details of the partnership, or any agreement have been made official.
Pakistan, however, has been in talks with Qatar to jointly run terminals at Islamabad, Karachi and Lahore airports, Reuters reported citing officials.
Prime Minister Shehbaz Sharif visited Doha late last year to garner Qatari investment in the country's energy and aviation sectors, which was followed by a pledge by the Qatar Investment Authority to invest $3 billion in Pakistan.
Islamabad has been negotiating the deal with Doha for several months as part of an effort to find foreign investment for the cash-strapped nation of 220 million people.
Pakistan's aviation sector is struggling with the country's national flag carrier running accumulated losses of nearly Rs400 billion Pakistani rupees.
The country is facing an acute balance of payment crisis with its central bank reserves dipping so low as to hardly cover four weeks of imports.
As of March 24, the foreign exchange reserves held by the State Bank of Pakistan (SBP) decreased by $354 million to $4.2 billion.
The net forex reserves held by commercial banks stand at $5.6 billion, $1.3 billion more than the SBP, bringing the total liquid foreign exchange reserves of the country to $9.8 billion, the statement mentioned.