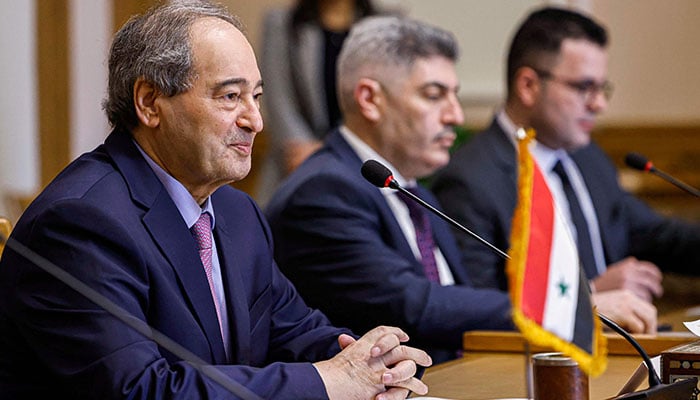 CAIRO: Egypt's Foreign Minister Sameh Shoukry met with his Syrian counterpart Faisal Mekdad in Cairo on Saturday, a first since Syria's civil war broke out over a decade ago, Shoukry's office said.
The meeting comes amid amplified Arab engagement with the Damascus government which has been politically isolated in the region since the start of the Syria war and was expelled from the Cairo-based Arab League in 2011 over its bloody crackdown on pro-democracy demonstrations.
Mekdad's visit to Cairo is the "first in more than 10 years" for a Syrian top diplomat and saw a closed-door meeting between the two ministers followed by discussions between the two countries' delegations, the Egyptian foreign ministry said.
Several Arab countries rushed to Syria's aid after a February 6 earthquake killed tens of thousands in the war-torn country and neighbouring Turkey.
At the time, Egyptian President Abdel Fattah al-Sisi called his Syrian counterpart Bashar al-Assad in an unprecedented show of support since Sisi took office in 2014.
The two country's top diplomats also spoke over the phone after the quake.
Shoukry then visited Damascus and met Assad on February 27 on the first trip of its kind in more than a decade.
Discussions on Saturday focused on "supporting the Syrian people to restore (the country's) unity and sovereignty over its whole territories", the Egyptian ministry said in a statement.
Shoukry called for a "comprehensive political settlement to the Syrian crisis", while reiterating Cairo's backing for the United Nations special envoy's efforts to resolve the conflict.
The two ministers also agreed "on intensifying channels of communication" between their countries, the statement said.
Unlike other Arab governments, Cairo never fully severed ties with Damascus after the war, but relations were downgraded.
But the quake's aftermath saw heavyweights like Saudi Arabia send aid to Syria, followed by talks between Riyadh and Damascus to resume consular services.
The United Arab Emirates has led the charge to bring Syria back into the Arab fold. President Mohamed bin Zayed Al Nahyan said last month that "the time has come" for Syria to be reintegrated into the wider region.