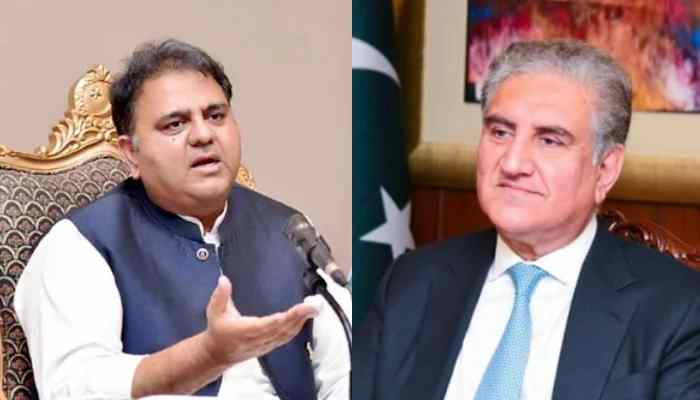 PTI kick-starts electoral process.
Former minister Murad Raas denied ticket.
Dr Yasmin Rashid to contest from PP-173.
---
LAHORE: The hopes of Pakistan Tehreek-e-Insaf (PTI) Vice Chairman Shah Mehmood Qureshi and Senior Vice President Fawad Chaudhry — if there were any — to become Punjab chief minister were dashed on Thursday after they were denied the provincial assembly tickets by the party chief Imran Khan.
The PTI has become the only major party to have formally started the electoral process as it announced the list of ticket holders for the elections to the provincial assembly, to be held on May 14, as per the Supreme Court orders.
In this way, the main figures of PTI who seem in the race for the coveted office of Punjab CM in case PTI wins the provincial assembly elections include party President Chaudhry Parvez Elahi, former chief minister Punjab Sardar Usman Buzdar, Dr Yasmin Rashid, Mian Aslam Iqbal and Mian Mehmoodul Rasheed.
Later, speaking on a private news channel, Fawad expressed his "displeasure" over the denial of the ticket.
In response to a question, if he would be PTI's candidate for CM, he stated it was the decision that had to be decided at the level of the party chairman.
Fawad also advised Khan not to announce the name of the chief minister's candidate publicly before polls, even if it was Sardar Usman Buzdar or anyone else.
Murad Raas ignored 
Along with other districts of Punjab, the PTI has awarded party tickets to its candidates from Lahore — also called Pakistan Muslim League-Nawaz's (PML-N) stronghold.
The major surprise this time is that former provincial minister Dr Murad Raas, who is also a close relative of Hamza Shehbaz, has not been awarded a ticket for the provincial assembly seat.
He could be the party's choice for the National Assembly elections while two former ticket-holders of NA seats, including Dr Yasmin Rashid and Ghulam Mohiud Din Diwan, have been fielded as provincial assembly candidates.
Dr Yasmin Rashid had contested the 2013, 2017 by-polls, and 2018 general elections on the NA seat, twice against the Sharif family members directly, and even bagged more than 100,000 votes once but could not win.
She got elected to the Punjab Assembly seats reserved for women and also served as Punjab's health minister. She has been awarded a ticket from PP-173.
Diwan Ghulam Mohiud Din, a former PTI ticket-holder from NA-124, who lost to PML-N's Shahid Khaqan Abbasi in 2018 by-polls, has been fielded from PP-147, the seat from where Mujtaba Shujaur Rehman has been consecutively winning since 2002 while it was PP-141.
Pioneer member of PTI Yasir Gilani has been awarded a ticket from PP-144, whereas Asif Bhinder, a relative of the late Arif Bhinder, former advocate general, has been awarded a ticket from PP-145. Abdul Kareem Khan has been awarded a ticket from PP-148, a part of Shalamar Town.
Mian Aslam Iqbal (PP-170), Mian Mehmoodur Rasheed (PP-168), Sarfaraz Khokhar (PP-166), and Malik Nadeem Bara (PP-167) are among those who won the last general elections on a PTI ticket.
Besides, Mian Akram Usman, who won the last by-election held on the seat vacated by Abdul Aleem Khan, has also been awarded a ticket from PP-169.
Khalid Gujjar has been awarded a ticket from PP-165, whereas three-time MPA Chaudhry Muhammad Mansha Sindhu has been fielded from PP-163.
Interestingly, Shabbir Gujjar and Zaheer Abbas Khokhar, both former PTI ticket-holders and winners of July 2022, have not been awarded a ticket.
Barrister Hammad Azhar has also not been awarded a ticket, but he is the party's likely choice for the National Assembly seat he won in 2018.
According to the list issued by the PTI, the candidates who have been awarded party tickets include Azam Khan Niazi (PP-159), Zubair Niazi (PP-172), Mehr Wajid Azeem (PP-171), Haider Majeed (PP-160), Ammar Bashir Gujjar (PP-161), Ahmar Bhatti (PP-164), and Khalid Gujjer (PP-165).
Former Vice Chairman WASA Sheikh Imtiaz has been fielded from PP-155 by PTI, whereas former TEVTA chairman Hafiz Farhat has been awarded a ticket from PP-157.