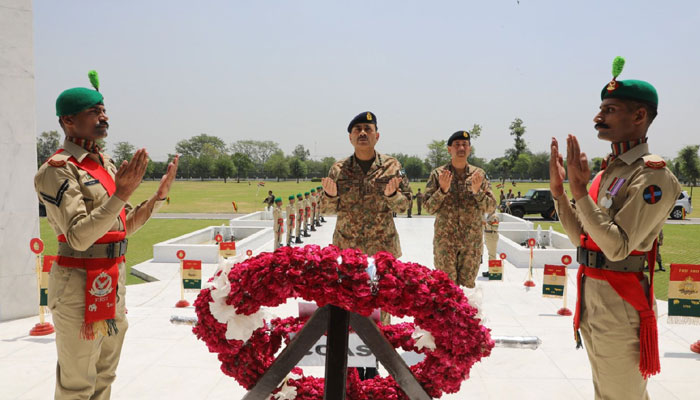 COAS Gen Asim Munir visits Jinnah House, army installation in Lahore: ISPR.
COAS given briefing on events of May 9 dubbed by military as "Black Day".
"Any effort to create wedge between army and people is an act against the state."
---
Chief of Army Staff (COAS) General Asim Munir has said that the legal process of trial against planners, instigators, abettors and perpetrators involved in the May 9 mayhem has commenced under Pakistan Army Act and Official Secret Act as per existing and established legal procedures derived from the Constitution.
The army chief's statement came as he visited Jinnah House and an army installation in Lahore, which were blatantly attacked and vandalised by "politically motivated" rioters, the Inter-Services Public Relations (ISPR) said in a handout.
The COAS was also given a briefing on events of May 9 dubbed by the military as 'Black Day' — the day when Pakistan Tehreek-e-Insaf (PTI) supporters ransacked and torched military installations across the country following the arrest of their leader Imran Khan in a graft case.

Addressing the garrison officers and soldiers at Corps Headquarters, Gen Munir emphasised that any action aimed at widening a gulf between people and the military was against the state.
"Army draws its strength from people and any effort to create wedge between the Army and the people of Pakistan is an act against the State which is neither tolerable nor condonable under any circumstances," the army chief said.
"Hostile and inimical forces and their abettors have been trying hard to create confusion through fake news and propaganda but all such designs of the enemy will be defeated with the support of the nation, InshAllah," he added.
Later, COAS also visited Services Hospital Lahore and inquired about the well-being of Deputy Inspector General (DIG) Ali Nasir Rizvi who was injured by "political miscreants" during the May 9 incident.
Gen Munir also visited Qurban Lines and met with police officials.
The COAS paid homage to the martyrs of police, appreciated the professionalism and restraint exercised by them during the May 9 riots, and assured the army's full support to the law enforcement agencies for their capacity enhancement, intelligence sharing, and training.
The COAS laid a floral wreath at Martyrs' Monument and paid rich tribute to the Shuhada who sacrificed their lives for the motherland, read the statement.