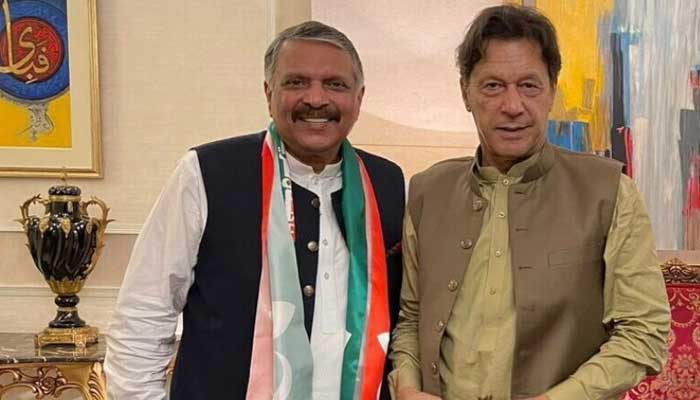 Haq denies media reports citing merger between PML-Z and PTI.

Says PML-Z may have an alliance with PTI, but no merger took place.

ECP had asked Haq to clarify his party's status.
---
ISLAMABAD: In the wake of the May 9 riots and its repercussions for the Pakistan Tehreek-e-Insaf (PTI) so far, Pakistan Muslim League-Zia (PML-Z) President Ijaz Ul Haq seems to have distanced himself from the party, according to a The News report published Monday.
Issuing a clarification to the Election Commission of Pakistan (ECP), Haq has claimed that his party did not merge with the PTI refuting all media reports of the merger between the two political entities as incorrect.

Droves of PTI leaders have dissociated themselves from the Imran Khan-led party following the May 9 violent protests during which government and military installations were attacked by enraged party supporters. 
Since the riots, the civil and military leadership of the country has vowed to strongly deal with the miscreants and those involved in instigating the attacks and trying them in military courts.
The former minister's claims, however, came in reply to a recent letter he received from the electoral authority on May 5 in which he was asked about his party's status and intra-party polls for the forthcoming general elections.
Both Ijaz — the son of former military ruler General Zia ul Haq — and PTI Chairman Imran Khan had met in Lahore in March this year, after which the media carried stories about the merger of their respective parties. There were also no denials regarding the news at the time.
In his response to the ECP, according to the publication, Ijaz stated that he didn't merge his political party with PTI in a meeting with the party's chairman.
"The party may have an election alliance with PTI in the next election but no merger has taken place and the news reports regarding it have no substance," Haq was quoted as having written to the electoral body.
The ECP had sent a letter to the PML-Z chief seeking clarifications regarding the following:
Whether Pakistan Muslim League-Z (Zia) has been merged with PTI;

Whether you (Ijaz) are contesting forthcoming general elections (2023) on the ticket of PTI.
The ECP, therefore, had requested Haq to clarify the position and status of his party to proceed further in light of Section 200 (2) (3) and Section 203 (3) of the Elections Act, 2017.