The royal wedding in Jordan between Crown Prince Hussein and architect Rajwa Al Saif captivated the nation and drew attention from around the world. The ceremony, held at Zahran Palace in Amman, brought together a constellation of stars and dignitaries, including high-profile guests like Prince William and Kate from the UK, as well as US First Lady Jill Biden.
For Jordan, the wedding carries significant symbolism, symbolising continuity in a country renowned for its stability. It also serves as an opportunity for the monarchy to revitalise its image after a recent internal feud. Moreover, the occasion holds the potential to strengthen Jordan's ties with Saudi Arabia, its oil-rich neighbour, which could be crucial for resource-strapped Jordan.
The bride, adorned in a graceful white gown, arrived at the palace in a vintage 1968 Rolls-Royce Phantom V, which was custom-made for the crown prince's late great-grandmother. Crown Prince Hussein himself arrived earlier, donning a ceremonial military uniform and carrying a gold-hilted sabre.
The families and their guests gathered in an outdoor gazebo, surrounded by manicured gardens, for the traditional Muslim wedding ceremony known as "katb al-ketab." As the marriage contract was signed, the crowd erupted in applause, celebrating the union of the couple.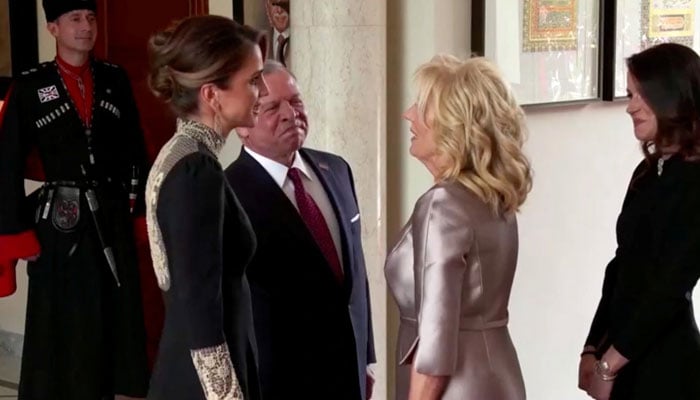 Meanwhile, several kilometres away, a crowd at an ancient Roman amphitheatre watched the wedding proceedings on a large screen. The moment the vows were exchanged and rings were placed, the atmosphere became electrifying. The spectators, who had gathered for viewing parties across the country, erupted with excitement, waving flags and cheering with joy.
The wedding of Crown Prince Hussein, who has been steadily gaining prominence and undertaking public engagements alongside his father, King Abdullah II, holds great significance for the people of Jordan. With his educational background, military service, and international recognition, including speaking at the United Nations General Assembly, experts believe that this wedding represents an essential milestone in his journey towards becoming the future king of Jordan.
Political analyst Amer Sabaileh remarked, "It's not just a marriage. It's the presentation of the future king of Jordan." The wedding serves as a definitive closure to any doubts or uncertainties regarding the crown prince's position.