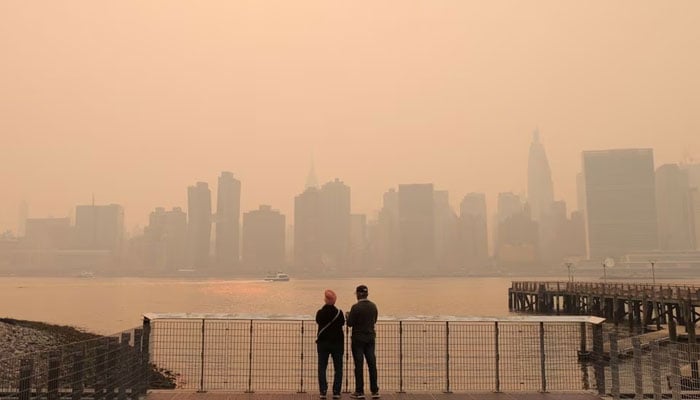 Officials said that wildfires in Canada are deteriorating the air quality in the Northeastern parts of the US, with satellite imagery showing the impact of the fires as it continues to burn in the neighbouring country.
An estimated 3.8 million hectares (9.4 million acres) have already been burned, forcing thousands to flee their homes after the world wildfires season started in Canada.
Warm, dry conditions were expected to persist in the months ahead.
According to the National Oceanic and Atmospheric Administration (NOAA), one of its satellites showed some of the smoke being "swept up" by a swirling system.
Department of Environmental Conservation noted that an air quality health advisory was in effect Wednesday for much of New York.
The advisory regarded air quality "unhealthy" for the New York City metropolitan area, Eastern Lake Ontario, and Central New York.
It also noted that air quality was "unhealthy for sensitive groups" in Long Island, the Lower Hudson Valley, Upper Hudson Valley, and Western New York. Air quality in the Adirondacks was "moderate," according to the advisory.
New Yorkers should limit outdoor activity and children, older adults and those with heart or breathing problems may be "especially sensitive and should avoid outdoor activities during this time," New York City Mayor Eric Adams said.
"This is an unprecedented event in our city, and New Yorkers must take precautions," he said.
It is the worst air quality since the 1960s, according to CBS New York.
The skies in the afternoon Wednesday turned orange in the greater New York City.
New Jersey officials upgraded the state's air quality alert to "unhealthy," while the governor strongly advised residents to stay inside.
Eric Adams said his team was "vigilantly" monitoring the wildfires and their impact.
The National Weather Service (NWS) in Atlanta, Georgia, said Wednesday: "Air quality warnings were also in effect in Maryland, St. Louis, Philadelphia and Delaware — with effects moving further down the East Coast. reduced air quality was possible and into the night due to smoke from the Canadian fires."
According to a report from CBS Philadelphia, late Wednesday night into early Thursday morning, the city had the worst air quality of any major city in the world.
More than 100 wildfires are burning across the Canadian border in Quebec and Ottawa, with more than 9.3 million acres "charred," The Weather Channel's Stephanie Abrams said on CBS Mornings Wednesday.
In a tweet, NWS shared a post showing orange atmosphere and wrote: "No, this is not Mars." 
And the smoke that has since drifted to the US "could last for a while."
"There's going to be thick smoke pollution at least through Saturday, especially in the Northeast," she said.
The NWS advised people in the region to monitor their local air quality forecasts before spending time outdoors.
"Before spending time outdoors, check the air quality forecast. Make sure you aren't doing yourself more harm than good."