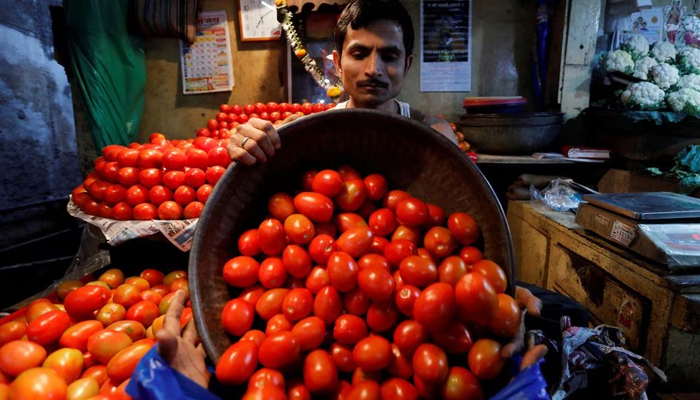 Even though tomatoes are a permanent part of cooking in India, their price has jumped by 445% to surpass that of petrol, leaving citizens shocked and forcing them to reduce consumption of the staple.
According to data compiled by the food ministry, a kilogramme of tomatoes sold in New Delhi on Thursday was INR120 ($1.45) a kilogram, a shocking difference of INR98 from INR22 at the start of 2023.
On the other hand, petrol sold for around 96 rupees a liter in the capital.
The Indian government has blamed a lean production season for the sharp price jump. While tomatoes become expensive during June and July every year, the impact this year is dumbfounding, increasing five-fold as monsoon rains disrupt transport and distribution.
However, over the past several months, consumers in India have also been saddled by inflated prices of other staples, including milk and spices.
Moreover, due to the exorbitant rates, several outlets of fast food franchise McDonald's have dropped tomatoes from their menu items.
Notices in two McDonald's stores in New Delhi, the capital, read: "Despite our best efforts, we are not able to get adequate quantities of tomatoes which pass our stringent quality checks.
"We are forced to serve you products without tomatoes."
However, the store managers said the decision came after quality issues in the supply chain and not the pricing.
In a country where a price surge could cause political parties to lose elections, exorbitant costs of mainstay items could hinder efforts to drive economic growth.
Social media reacts
Following the price hike, several Indians have taken to social media to vent their rage in admittedly amusing posts.
1. Google searches
One social media user shared that their Google searches had changed following the hike in tomatoes price.
 2. 'Social media meme fest'