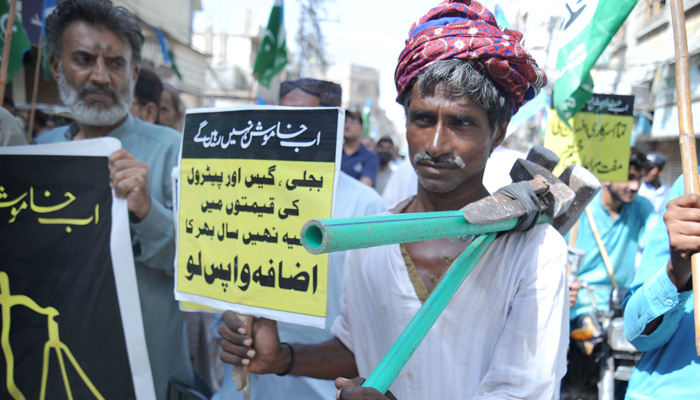 Rs13,000 relief to be provided in Rs60,000 to Rs70,000 power bills.

IMF seeks more data from govt regarding suggestions for relief.
Talks underway between IMF, interim govt for electricity relief.
---
ISLAMABAD: Amid nationwide protests over inflated electricity bills, the caretaker government has reportedly chalked out a plan to provide relief to the power consumers, Geo News has learnt.

Sources told Geo News the interim government has decided to provide relief of up to Rs3,000 to consumers using up to 300 units in October's electricity bills.
Likewise, the sources said power consumers whose electricity bills are of Rs60,000 to Rs70,000, will benefit from a reduction of Rs13,000.
Meanwhile, the insiders said talks between the International Monetary Fund (IMF) and the caretaker government are underway on the matter of providing relief to the power consumers
Meanwhile, The News reported that the Washington-based global lender has sought more data from the Power Division for its decision on various suggestions forwarded to the Fund seeking relief in the increased bills for August and September.
"We have shared the required data with the Fund people hoping that IMF may today (Monday) come up with its response with a yes or no to the assertions of the Finance and Power Divisions, seeking permission for relief to inflation-stricken people in electricity bills," some top sources engaged with the IMF told The News.
"At the moment, authorities of both Power and Finance divisions are in hectic talks with the Fund people on the data related to suggested measures for solace in power tariffs and their possible impact on circular debt, cash flow situation and further delays to IPPs, ultimately making the power sector more unsustainable."
Following continuous protests by citizens and traders, who have taken to the streets against the exorbitant hikes in power bills and addition of taxes, the caretaker Prime Minister Anwaar-ul-Haq Kakar-led setup in Islamabad has been trying to woo the global lender to agree to provide immediate relief for electricity consumers in the cash-strapped country, where people are already battered by skyrocketing inflation.
The interim premier, on August 31, had assured about the likelihood of the Fund nodding to the government's relief-related proposal — aimed at providing relief to the public — in 48 hours, but it kept waiting to hear back after the deadline elapsed.
The IMF was earlier briefed about the said proposal, under which some portion of the tariff — up to 30% for August and September — would be scaled down and the impact of reduced tariff would be passed on to consumers in six months of the winter season, from October 2023 toMarch 2024 in a staggered manner.