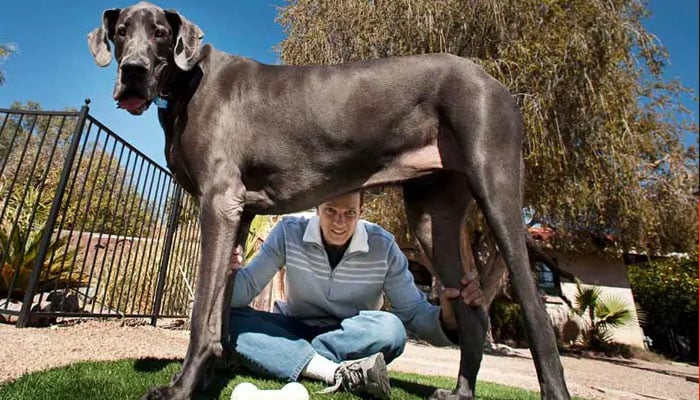 Zeus, the towering Great Dane who held the title of the world's tallest male dog, has sadly passed away at the age of three due to complications arising from bone cancer treatment. 
Zeus measured 1.118m (44 inches) tall on 4 October 2011 and was owned by Denise Doorlag and her family, in Otsego, Michigan, USA.
His owner, Brittany, was by his side during his final moments, and this news comes as an update from the Guinness World Records.

In 2022, Zeus was officially recognized as the tallest Great Dane in the world, a distinction he earned at the tender age of three, with his fourth birthday on the horizon. Tragically, his life was cut short when he succumbed to pneumonia after undergoing surgery to amputate his front right leg, necessitated by the discovery of bone cancer.
Zeus's father, Donnie Davis, shared that Zeus was in Brittany's loving embrace when he passed away suddenly on a Tuesday morning. Brittany, hailing from Bedford, Texas, expressed her grief on the Guinness World Records' website, stating, 
"We are deeply saddened to announce the passing of our beloved dog, Zeus, the Guinness World Records title holder for the tallest living male dog. Zeus died Tuesday morning of amputation-related pneumonia."
Zeus was cherished not only for his remarkable height but for his gentle and loving nature. Brittany recalled his stubborn yet joyous disposition, always excited to be with family and friends during his adventures around Dallas and Fort Worth. Despite the challenges posed by cancer, Zeus's spirit remained indomitable, as Brittany had initiated a fundraising campaign to provide him with the best possible care.
Zeus, described as "very laid back" by Brittany, entered her life as an eight-week-old pup, a gift from her brother. Her lifelong dream had been to have a Great Dane, and Zeus fulfilled that dream in grand style. His towering presence made him a local celebrity in Dallas and Fort Worth, where curious onlookers often asked if they could ride him like a horse during his walks, a request that was consistently met with a resounding "no."
Zeus's large stature, along with his strong-willed personality, led to comical yet endearing antics. He would quench his thirst by drinking from the kitchen sink and occasionally indulged his mischievous side by pilfering food from countertops.
Craig Glenday, editor-in-chief of Guinness World Records, acknowledged the immense joy that Zeus brought to people's lives, describing him as a "larger-than-life character" who radiated happiness wherever he went. The news of his illness and subsequent passing has left a void in the hearts of many who marvelled at the world's tallest dog and his boundless spirit.