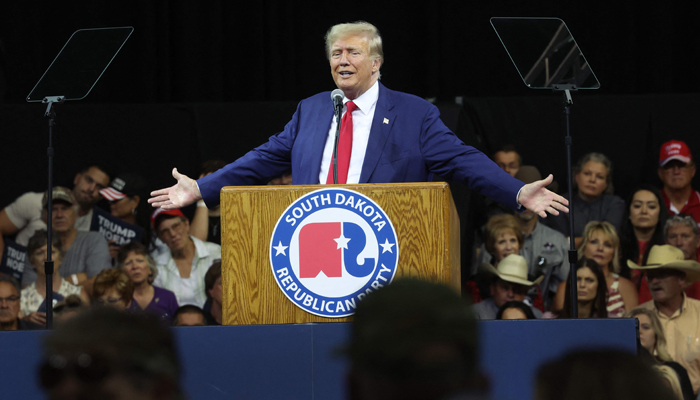 Former US President Donald Trump may have hinted about picking a female running mate for his Vice President but also revealed that he has not thought about this subject much, as the elections are scheduled to take place in November amid his deepening legal troubles.
The indictment-stricken Donald Trump was speaking with NBC News, and responded to questions about his running mate saying he has not pondered yet even if he is nominated as a Republican candidate, however, he liked the concept of having a female person for the post.
"I like the concept, but we're going to pick the best person I do like the concept, yes," the 77-year-old said. 
He maintained during his talk with Meet the Press, that you always "do a little bit, but I really don't think it's time. I want to win."
Mentioning the Republican South Dakota Governor Kristi Noem who endorsed Trump at his state's rally, fanned the speculation about her being the pick for the indictment-plagued candidate. 
The billionaire said she would be someone he'd consider choosing, calling her "fantastic."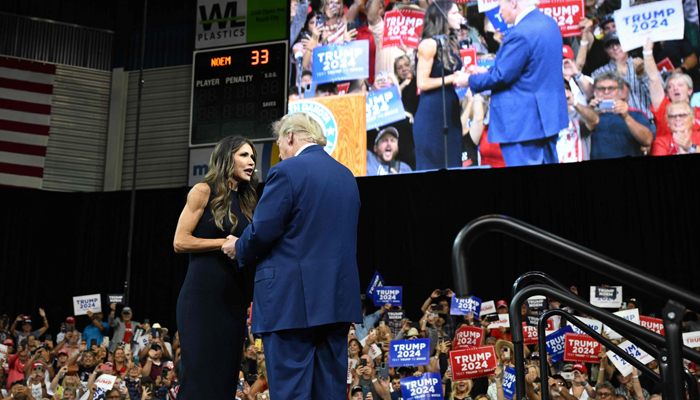 Trump said: "She's been a great governor. She gave me a very full-throated endorsement, a beautiful endorsement actually. And, you know, it's been a very good state for me. And certainly, she'd be one of the people I'd consider, or for something else maybe. But we have a lot of people. We have a lot of great people in the Republican Party."
The first-ever indicted president of US history added in the interview which is due to air Sunday speaking about the age limit: "You know, I took a test two years ago, three years ago. And as the doctors said — and it was in front of doctors and a whole big deal at Walter Reed [hospital], which is an incredible place. And I aced it. I get everything right. I'm all for testing. I frankly think testing would be a good thing."
Donald Trump has been mentioning his aced-the-test stance since 2020 in which healthcare experts performed a cognitive test — not an IQ test — of 10 minutes for the purpose of evaluating any cognitive impairment or early dementia.
"A lot of people say it's not constitutional to do it. But I would be for testing, to test to make sure everyone's just fine, he said, adding that a "lot of people say that can't happen because of the Constitution."
The former president said: "[You] know, some of the greatest world leaders have been in their 80s. I'm not anywhere very near 80, by the way."
"I don't think [Joe Biden's] too old, but I think he's incompetent, and that's a bigger problem."
The former president also said that under a tradition, he left a note for Joe Biden in January 2021.
"You know, it's interesting. He actually said it's up to me to do, and I actually think it's up to him to do," Trump remarked.
"I left him a note. I think it was very — it was a nice note. I took a lot of time in thinking about it. I'd love him to do a great job, even if it was very bad politically."