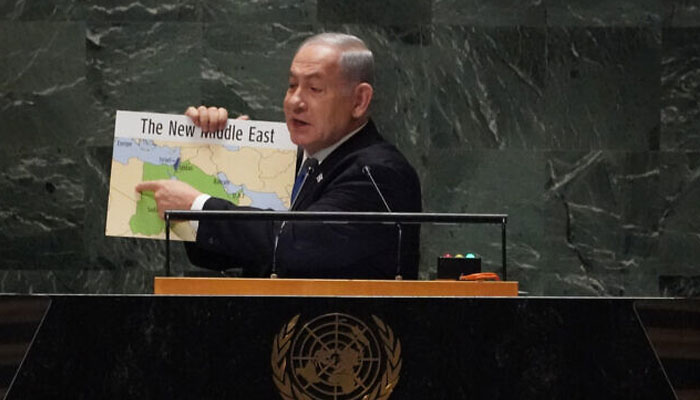 "Such a peace will go long way to ending the Arab-Israeli conflict."
Peace deal to encourage other Arab states to normalise relations: Israeli PM.
Says peace between Israel and Saudi Arabia will create new Middle East.
---
In an important speech at the United Nations General Assembly, Prime Minister Benjamin Netanyahu has announced that Israel is "at the cusp" of a historic peace agreement with Saudi Arabia, a deal he predicted will transform the Middle East.
He said that "such a peace will go a long way to ending the Arab-Israeli conflict," said Netanyahu while addressing the gathering for the 12th time on Friday. 
"It will encourage other Arab states to normalise their relations with Israel. It will enhance the prospects of peace with the Palestinians. It will encourage a broader reconciliation between Judaism and Islam, between Jerusalem and Makkah, between the descendants of Isaac and the descendants of Ishmael."
"All these are tremendous blessings."
"Peace between Israel and Saudi Arabia will truly create a new Middle East," Netanyahu said to applause from dozens of Jews and Israelis in the gallery who came to show their support.
The hall was largely empty on the last morning of the confab, but in another encouraging sign for Netanyahu, a lone Saudi official wearing a black head covering sat listening to the entire speech.
The Prime Minister's Office made a point to send out a photo of the diplomat to Israeli reporters.
The address came days after Saudi Crown Prince Mohammed bin Salman struck an optimistic tone about the prospects of an agreement, telling Fox News that "every day we get closer" to Saudi Arabia normalising ties with Israel.
Netanyahu chose to focus his General Assembly speech on his grand visions — peace with Riyadh, an AI future without scarcity — and not on the persistent fight back at home over the judicial overhaul, even as hundreds of protestors waving Israeli flags gathered outside Turtle Bay to let their displeasure be known.
Netanyahu went out of his way to praise US President Joe Biden, saying he "deeply appreciates" the president's commitment to "seize this historic opportunity."
"We share the same optimism for what can be achieved... The United States of America is indispensable in this effort," he said.