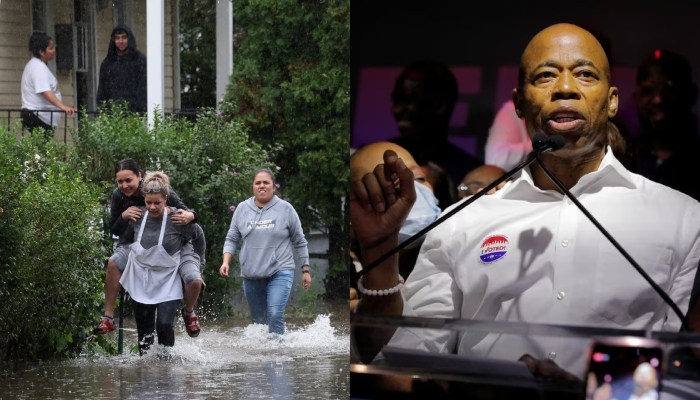 New York City experienced significant disruption on Friday as torrential downpours triggered flash flooding after a week of non-stop rainfall, and New Yorkers were not impressed by their mayor at all.
New York Mayor Eric Adams was seriously criticised for his tardy response to Friday's devastating floods after failing to provide anything more than the most minimal warning the day before and even arriving late for an emergency management session with other officials.
The relentless rain that had continued for a week inundated the city's streets and disrupted subway services in the nation's most populous metropolis.
The National Weather Service issued a flash flood warning for New York City, with some areas already receiving over 2 inches of rain on Friday. The forecast predicted an additional 3 inches within hours.
However, as other leaders from organisations such as the Metropolitan Transportation Authority held major briefings Thursday, Adams only retweeted a few weather announcements and went to a fundraiser.
He left classes to continue as usual, which resulted in some schools being flooded.
Adams finally issued a state of emergency some two hours after Governor Kathy Hochul said she planned to order one for the state on Friday and, as rain started to taper off, dozens of streets in the city were flooded, and subway service was down or delayed.
Even fellow Democrats were left feeling shattered as Councilman Lincoln Restler, said: "I am dumbfounded by the lack of communication from City Hall to prepare people for this extreme weather event."
"Aggressive, early communication and to plan for the worst-case scenario … Neither happened here."
Adams' first comment on the storm came at about midday, warning people to stay home after hundreds of thousands of school kids had already headed out to class and weather experts said it was clear that the rain would create serious and possibly deadly conditions.
"If you are home, stay home, if you are at work, shelter in place for now," said the mayor, who arrived 40 minutes late to his press conference with Hochul and the city and state agency heads.
"Hosting an emergency press conference about a storm after the storm had passed was not the best strategy," another city lawmaker quipped.
The National Weather Service issued a dire update by 8:30am of flooding already underway that the agency described as "life-threatening" by 10:45am but the mayor had yet to tell residents to stay inside.
"A State of Emergency should have happened at 5am" city teacher Shatasia Frazier told the New York post. "Nothing was handled. He should have shut everything down. Did you see the videos? It's disgusting."
Adams has faced backlash before for not promptly responding to emergencies in New York City, as he previously did not respond to high levels of wildfire smoke in June and left the city for a two-day vacation when it was flooded in December.