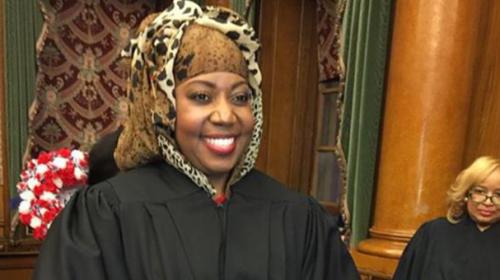 NEW YORK: At a time when Islamophobia is running rampant in the United States with presidential candidate Donald Trump going as far as demanding America ban Muslims from entering the country, it may come as a surprise the last week the USA appointed its first Black Muslim woman as a Judge.
Carolyn Walker-Diallo was sworn in as a civil court judge in New York on Thursday and she took her oath on the Holy Quran.
While it is the norm in the United States and most western countries for oaths to be administered with the individual swearing on the Holy Bible, Judge Walker took her oath on the Holy Quran in respect of her faith Islam and she did so while wearing a hijab.
The video of her swearing in ceremony as a civil court judge of the 7th Municipal District at the Brooklyn Burough Hall was posted on Facebook.
The video of her ceremony has prompted many comments in favor her induction.
While social media was divided with people appreciating Judge Walker being sworn in on the Holy Quran a religious scripture she holds sacred, others denounced that she was allowed to take an oath on the Holy Quran instead of the Holy Bible.
One supporter commented, "The problem is that America isn't a Christian nation. It's supposed to accept all religions and be a nation that accepts people regardless of their race, religion, and now sexual orientation. If we don't allow all to be equal and free, then we lose the essence that makes us truly American," she added.
Meanwhile Judge Walker posted on her website, "All is praise is indeed due to the Most High! I am humbled that my community has entrusted me with the immense responsibility of ensuring that EVERYONE has notice and a FAIR opportunity to be heard in the halls of justice,"
Here is the video of her swearing in ceremony.
Carolyn Walker: 1st Muslim Woman Judge in US sworn in with Qu'ran at 7 Municipal District, Brooklyn, NY #AmericanMuslims #ProudAmerican

Posted by American Muslims on Saturday, December 12, 2015