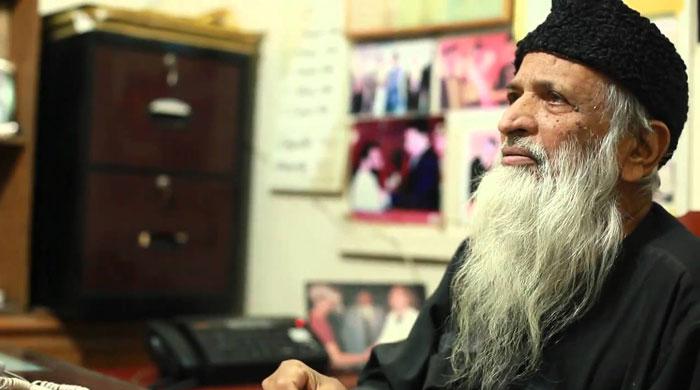 KARACHI: Pakistan's most renowned and respected philanthropist and humanitarian Abdul Sattar Edhi passed away in Karachi on Friday at the age of 88. His son, Faisal Edhi, confirmed the news of his death.
"Edhi sahab passed away tonight. I want to tell you all, Pakistan and the world, that he is not with us anymore," said Faisal Edhi.
Edhi's funeral prayers will be offered at the National Stadium in Karachi after Zuhr prayers on Saturday.
The renowned humanitarian, who was the founder and chairman of the Edhi Foundation, was diagnosed with kidney failure three years ago but was since unable to receive a transplant due to his poor health.
Earlier in the day, the family had had asked to pray for Edhi whose condition deteriorated and who was said to be breathing with the help of a ventilator.
He was brought to the the Sindh Institute of Urology and Transplantation (SIUT) for a regular dialysis earlier today, but was shifted to intensive care and put on the ventilator after he faced severe trouble in breathing.
Edhi had been undergoing treatment at the hospital for the past several weeks.
The philanthropist suffered from multiple diseases and complications, including diabetes, hypertension, and kidney failure. His son told reporters earlier today that he had also become very weak physically because of not being able to eat for some time.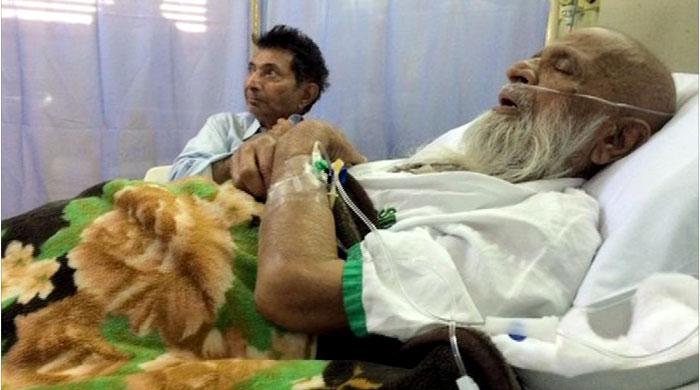 Last act of kindness
In a last act of kindness and selflessness, Faisal Edhi said his father had wished that all his usable body organs be donated after his death.
"He had prepared for himself a grave in Edhi village about twenty-five years ago," he said. "We will bury him there according to his wishes. Also, he wanted to be buried in the same clothes in which he died. Hence, we will also honour his wish and bury him in the clothes that he passed away," he added.
"He also wished that his organs be donated after he passes away. Because of his condition, only his eyes can be donated," said his son, visibly emotional and in tears.
An operation was conducted to extract his cornea for donation.
"Two people will benefit after operation tomorrow from the cornea donated by Edhi sahab," said Faisal Edhi.
Edhi is revered as a national hero in Pakistan of nearly legendary status. He established the welfare organisation Edhi Foundation almost six decades ago that owns and runs Pakistan's largest ambulance service, as well as nursing homes, orphanages, clinics, maternity wards, morgues, homes for the elderly, and women's shelters, along with rehabilitation centers and soup kitchens across the country.
The head of the Edhi Foundation had received a number of international honours including Pakistan's Nishan-e-Imtiaz, the Ramon Magsaysay Award, the Lenin Peace Prize, and the Balzan Prize among several other international honours for his humanitarian work.
In 2011, then Prime Minister Yousuf Raza Gilani proposed Edhi's name for the Nobel Peace Prize. He appeared on the Nobel list again this year after he was nominated for the award by young Pakistani Nobel laureate Malala Yousafzai.
A spiritual quest for justice
Starting from humble beginnings, he was known to stay true to his roots and focus all his energy on his humanitarian work.
In an earlier interview with Geo News, Edhi said he only owned two pairs of clothes which he washed himself, a tradition he had continued for many years. He lived in a small one-room flat located above the office of his charitable organisation.
"He never established a home for his own children," his wife told news agency AFP in an earlier interview.
Motivated by a spiritual quest for justice, over the years Edhi and his team aimed at helping those in society who cannot help themselves and picking up where limited government-run services fell short.
The most prominent symbols of the foundation — its 1,500 ambulances — are deployed with unusual efficiency to the scene of terrorist attacks that tear through Pakistan with devastating regularity.
His work was so widely respected by across Pakistan that armed groups and bandits were known to spare his ambulances.
Frail and weak in his later years, Edhi appointed his son Faisal as managing trustee in early 2016.
"I have done a lot of work. I am satisfied with my life," he told news agency AFP in an interview earlier this year.
Edhi is survived by four children and his wife Bilquis Edhi, who ran the Edhi foundation with him.