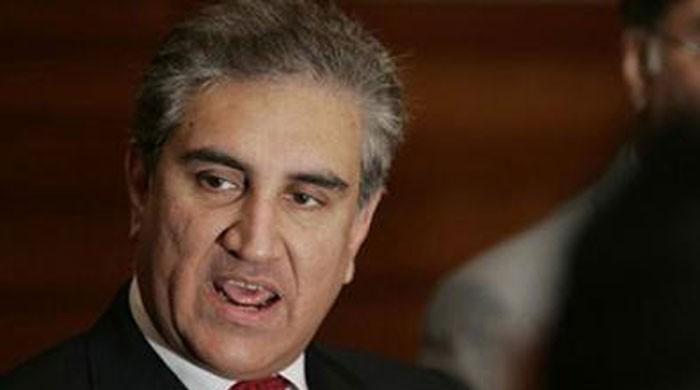 ISLAMABAD: Pakistan Tehreek-e-Insaf leader Shah Mehmood Qureshi on Wednesday said that the party will attend the Parliament's session tomorrow and present its stance.
The Parliament session was adjourned today after facing disruption. The commotion erupted after PTI leader Qureshi's adjournment motion on the matter of Panama Leaks was rejected.
Shah Mehmood Qureshi spoke to media, where he said that the party acknowledges that the ongoing Panama case in Supreme Court should not be interrupted.
"Is this an independent Parliament or an advisory council?" said Qureshi, referring to the ruckus in today's session.
Qureshi said that if joint Opposition makes a demand then the government has to respond.
Today, PTI members of the National Assembly disrupted an already heated session of the House, making it impossible for proceedings to continue and forcing the speaker to adjourn the session until Thursday evening.
A stormy NA session was in progress on Wednesday evening with lawmakers from treasury and opposition delivering fiery speeches on the Panama scandal, which has been haunting the Nawaz government for months now.
Govt losing ground, 2017 will be year of elections: Qureshi
Shah Mehmood Qureshi earlier in the day said the government is losing its utility and popularity and would be unable to stay in power for long.
Speaking to the media ahead of attending National Assembly session, Qureshi said his party wants to uncover "the lies Prime Minister told in the parliament."
"There is discrepancy in what the Prime Minister said in the parliament and in his replies to the Supreme Court. We want clarification on this," Qureshi said.
He said that the privilege of members of the parliament had been adversely affected due to this.
The PTI leader called for routine activities of the parliament to be suspended and privilege motion to be brought under discussion.
He said 2017 would be the year of elections and his party is preparing for them. A parliamentary board would be established which would review the candidates, he continued.