KARACHI: Samiya Rafiq, a resident of Karachi who was born and raised in Saudi Arabia, recently took on the tricky task of crossing the Khurdopin Pass – something that has only been done by two foreigners.
The route, high up in Pakistan's northern regions, is located between Shimshal Valley and Snow Lake.
Malik, among many other women from Pakistan, is drastically challenging and changing the world's perception that their country suppresses them, especially significant in an environment where marches are held to protest the misogynistic comments issued by US President Donald Trump.
Boasting feminist movements that promote equal rights for everyone and a ladies dhaba situated in one of Karachi's low-income towns, Pakistan now presents the girl who attempted Karakoram's highest pass – Khurdopin.

(Samiya at Khurdopin expedition, December 2016. Photo: Samiya's Facebook)
Having been trained as an intermediate paragliding pilot, the graduate of Institute of Business Administration (IBA), Karachi, has always had a keen interest in keen sports. Her father, who used to participate in similar activities in his free time, is her major inspiration and support.
Malik, when she lived in the Kingdom, used to go hiking on rocky trails with her father, from whom she learned basics of this art. During her training, she was taken to various peaks and taught about spot selection, mountaineering, and trekking.
"It is very difficult for other women to do what I do," she said speaking to Geo.tv, adding, as an afterthought, that "I know how to travel, [which is what] my dad has taught me."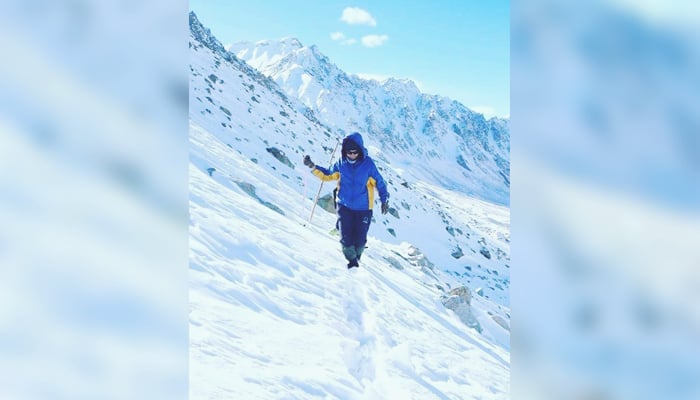 (Samiya at one of her ventures up north, November 2016. Photo: Samiya's Facebook)
The 29-year old added that, with a partner this time, the two – accompanied by porters – are climbing for peace.
"We want to show that Pakistan is a peaceful nation, and we want to help push forward the dialogue on women empowerment," stated Malik, who, interestingly, believes that Mount Everest is something "everyone does," making it a cliché.
Their project also aims to attract tourists to Pakistan by bettering the country's image around the globe, which, in turn, will aid in infrastructural development. It also means that investment may start coming in sooner and in bigger amounts.
"The significance of gender dimension shows that men and women both should engage in the procedure of peace building. This expedition is giving a message to everyone that how important is teamwork, trust in each other, and commitment," according to a statement on her blog.

(Samiya rests during one of her trips, February 2017. Photo: Samiya's Facebook)
The mountain-climber also talked about how girls need to fight for their passion.
"Passion doesn't really disappear if your mom said so."
Girls should equip themselves with the right skills for their passion, and then convince their parents that this is what they want to do in life, knowing they are capable of doing it. She backed her opinion with her own example, explaining that she has been on expeditions in winter by herself in past, mainly to test her potential.
We asked what she went through to make herself proficient enough to go for extreme sports.
"I run two hours every morning and evening. This makes it four hours of exercise a day in parks, including push- and pull-ups."
It has been two years since Malik made training each day mandatory for herself.
Now the athletic girl has set a goal to top some more peaks, before she embarks on her way atop 8,611-metre-high Mount Godwin-Austen or K2, a dream she has had for some time. Considering how she has successfully managed to continue her mountain-scaling hobby alongside running an online business consultancy, we think it's not far away that she will emerge victorious in that goal as well.
Check out her Khurdopin travelogue here: