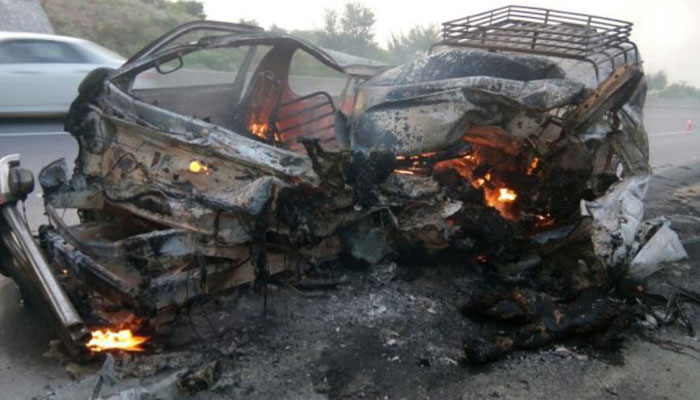 ISLAMABAD: Fourteen people were killed when a van crashed into a trailer near Chakri on Tuesday on the Islamabad-Lahore Motorway. 
A spokesperson for the National Highways and Motorway Police said the passenger van, travelling from Jhang to Rawalpindi, caught fire after the accident. 
The fire was doused by fire brigade officials who reached the site along with motorway police officials and rescued the passengers. 

Six of the passengers in the van were injured due to the fire and were shifted to Pakistan Institute of Medical Sciences in Islamabad. 
The motorway police said the identities of the deceased passengers have yet to be ascertained. 
Sources said later the deceased will be shifted to District Headquarters Hospital Rawalpindi where their post-mortem will be conducted. 
Accident in Karachi claims seven lives 
Meanwhile in Karachi, seven people were killed and five others — including a child — injured in a truck-van collision near the superhighway. 
Jinnah Postgraduate Medical Centre senior official Dr Seemin Jamali said six of the deceased were brought dead to the hospital while one of the injured succumbed to injuries in the hospital. 
Two children and two women were among those who died.