LAHORE: PSL team Lahore Qalandars have picked another batch of 16 aspiring Qalandars for Lahore Rising Stars squad at the conclusion of two-day trials in Gaddafi Stadium, which saw around 26,000 amateur cricketers try their luck.

From 41,700 registered participants, more than 15,000 turned up on day one and over 10,000 showed up on the second day of trials, aiming to be part of Lahore Qalandars squad.
"The response in Lahore was overwhelming, this shows that youth of Pakistan want constructive opportunities and we must provide them such platforms," said CEO of Lahore Qalandars Rana Atif.
"The coaches worked really hard in the last two days and picked the team on merit," Atif added.
Rana Fawad, the chairman of Lahore Qalandars and Durban Qalandars, was also excited to see a large number of participants in Lahore trials.
"I also want to appreciate the coaching staff who have been working for the past two weeks and have been to six different spots to pick talent," said Rana.
"Certainly, we have some players who can represent Pakistan in future, maybe in a couple of years, we will develop the raw talent into performers who can serve the country, this is our duty," added Fawad.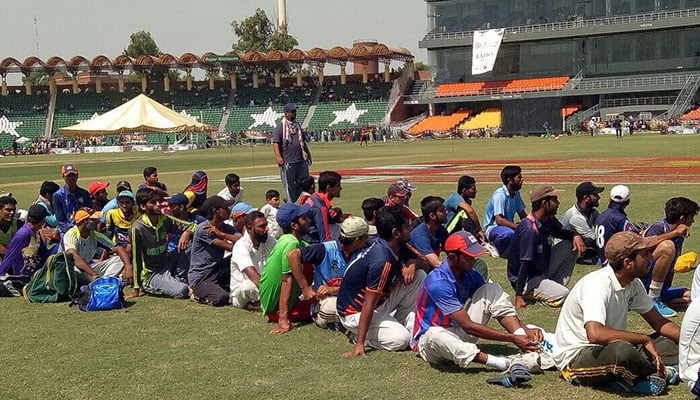 The two-days trials in Lahore witnessed amazing talent, one of them was a 14-year old boy Kabir who – at this age – was bowling at a speed of 79mph.
The Lahore Rising Stars squad, picked by a panel of 26 coaches headed by Director of Cricket Aqib Javed, includes Waqas Ali, Mohammad Sudais, Gohar Hafeez, Junaid Ali, Hamza Nazar, Mohammad Waqas Ali, Mohammad Ishaq, Ameer Hamza, Mohammad Umer, Ahmed Danial, Mohammad Salman, Mohammad Bilawal, Mohammad Adeel Khan, Shahroz Afzal, Mohammad Ahmed, Jahazeb Javed and Tariq Nawaz.
The next stop for Lahore Qalandars' Rising Stars trials is Gujranwala, where players will be tested on September 19 and 20. 
Selected players will represent Gujranwala Rising Stars in LQ players development rising stars tournament in last week of September.