RAWALPINDI: President of the National Defence University and former chief of the country's premier intelligence agency, Lieutenant General Rizwan Akhtar, has requested early retirement from the Pakistan Army.

Lt Gen Akhtar has made the request "due to some pressing personal commitments" and also pleaded "those who know him to avoid speculation in any domain".
The former director general of the Inter Services Intelligence (ISI) was due to retire in October next year but the three-star general has got "early release" after serving around 35 years in the armed forces.
His resignation letter is as follows:
"Dear All
It's with a heavy heart but with great satisfaction, that I hang my uniform on 9th October 2017 after close to 35 years of dedicated active commissioned service. It has been a matter of great pride and honour for me to have served this Great Army.
I would like to place on record, my sincere gratitude and appreciation for all my Seniors, comrades and staff including my family to have provided required guidance and support through my journey in the Army. I have many people to thank for the support provided to become what I am today.
I have requested for premature release due to some pressing personal commitments and want everyone knowing me, to respect my decision and not succumb or resort to speculation in any domain. I shall be available for any service in the Army whenever needed.
Khuda Hafiz"
Sources said Lt Gen Akhtar is set to be released from duty on October 9, in accordance with his request.

On September 28, 2017, the army shuffled around three lieutenant generals from the key posts of corps commander Lahore and Quetta.
From DG Rangers to ISI
Lt Gen Akhtar assumed charge of the ISI on November 7, 2014, as its twenty-first chief, replacing Lt Gen Zaheerul Islam, who was retiring from service as per routine.
Akhtar's appointment as the ISI chief was undertaken by then army chief General Raheel Sharif.
Akhtar assumed command of the intelligence agency amid allegations of the agency's 'links' with the 2014 protest sit-in against the Nawaz Sharif government by the Pakistan Tehreek-e-Insaf and Pakistan Awami Tehreek.
On December 11, 2016, Chief of Army Staff General Qamar Bajwa approved significant postings and transfers, including the transfer of ISI chief Lt Gen Akhtar to the NDU. The development came two weeks after Gen Bajwa took over as army chief.
Akhtar had earlier been heading the Sindh Rangers, where he was posted as DG in March 2012 and led the key Karachi Operation when it began.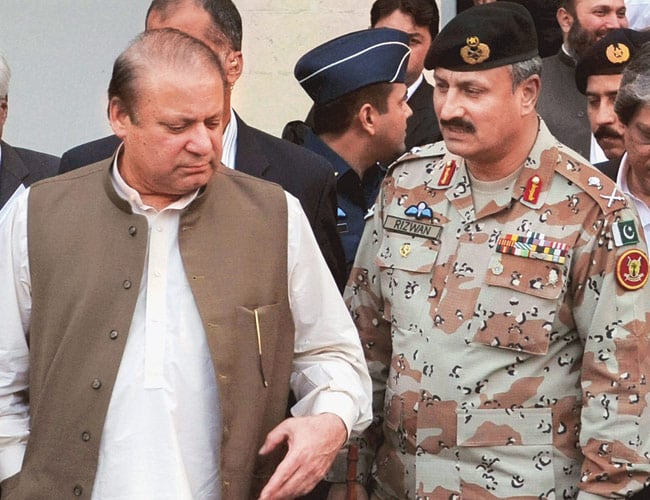 The operation was launched in September 2013 by the present government and Rangers was given the key role for curbing incidents of crime and terrorism in the metropolis.
Military career

Commissioned in the Pakistan Army's Frontier Force Regiment in September 1982, Lt Gen Akhtar served as DG Rangers Sindh — a post through which he played an important role in the Karachi Operation.
According to numerous defence analysts, he is known for his professionalism and unblemished service record.

The top army official has also commanded an infantry brigade and a division in the Federally Administered Tribal Areas.
He is a graduate of the Command and Staff College in Quetta, National Defence University, Islamabad, and the United States Army War College, Pennsylvania, USA.
At the US Army War College, Lt Gen Rizwan authored a strategy research project report titled, "US-Pakistan trust deficit and the war on terror" as a fulfillment of the requirements for his Master's degree in Strategic Studies.