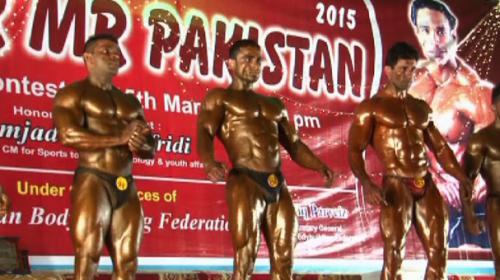 PESHAWAR: Ahmad Khan of Khyber Pakhtunkhwa and Bilal Shoukat of Railways clinched the titles of Mr Pakistan and Junior Mr Pakistan respectively in the 63rd National Bodybuilding Contests held here at indoor hall of PSB Coaching Center on Monday.
Spectators turned up in large numbers to catch a glimpse of the contests. More than 120 musclemen took part from Punjab, Sindh, Balochistan, Islamabad, Khyber Pakhtunkhwa and Railways.
Adviser to the Chief Minister KP Amjad Khan Afridi was the chief guest on this occasion.
Former Sports Minister Syed Aqil Shah, former Information Minister Mian Iftikhar, prominent yesteryear players including former Mr Asia, Mr Olympia, Mr Pakistan Mushtaq Ahmad, former Mr Pakistan Shahid Butt, Yahya Butt, Habib Ur Rehman Bhatti, Arshad Mughal, Dr Nabil, organising Secretary Tariq Pervez and judges were also present.
In the team event, Pakistan Railways got 67 points by taking first position followed by Khyber Pakhtunkhwa with 57 points. Punjab came third with 42 points.
Speaking on this occasion, Amjad Khan Afridi announced Rs100,000 for the Ahmad and Rs50,000 for Bilal Shoukat.
He said the government is striving hard to have more and more sports activities.
The minister said Rs2 billion funds have been allocated for the sports activities in the province. He said sincere efforts have been taken for the promotion of sports at the grassroots level.
Afridi said the law and order situation has been improving day by day and soon new dates for the holding Youth Games would be announced.
There were four junior class and eight senior classes before Mr. Pakistan and Junior Mr. Pakistan contests.
Results Junior Class:
65kg: Shah Ahmad (KP), Aamir (Punjab), Ahmad (Railways)
70kg: Munir Ahmad (KP), Fahad Shah (Punjab), Ismail (Sindh)
75kg: Momin Khan (KP), Waqas (Sindh), Imran (Railways)
---
Results Senior Class:
60kg: Mujtaba Ali (Railways), Kashif Ahmad (KP), Yousaf (Punjab)
65kg: Moeen (Railways), Imran (KP) and Gohar (Sindh)
70kg: Naeem (Railways), Iftikhar Ahmad (Punjab), Ikram (KP)
75kg: Asif (Railways), Gul Muhammad (Balochistan), Khurram (Islamabad)
80kg: Arif Prince (Punjab), Khalid Bashir (Railways), Ayas Ilyas (KP)
85kg: Ahmad (KP), Jawad Ahmad (Punjab), Asim Ali (Balochistan)
90kg: Mazar Iqbal (Railways), Naeem (Punjab), Naveed Ihsan