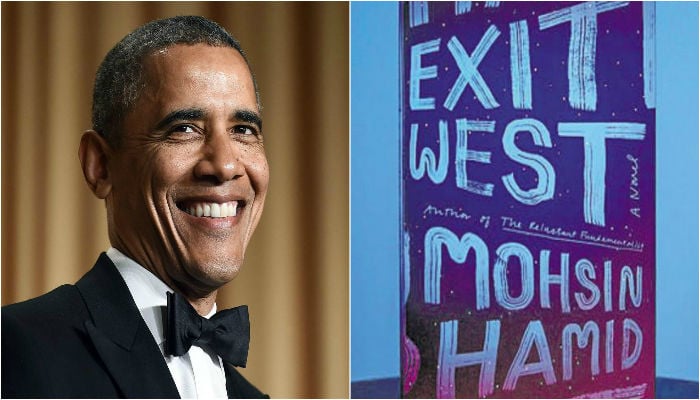 Former US president Barack Obama included Pakistani novelist Mohsin Hamid's Exit West in the list of one of best books he read in 2017.

In a social media post, he shared: "During my presidency, I started a tradition of sharing my reading lists and playlists. It was a nice way to reflect on the works that resonated with me and lift up authors and artists from around the world. With some extra time on my hands this year to catch up, I wanted to share the books and music that I enjoyed most. From songs that got me moving to stories that inspired me, here's my 2017 list — I hope you enjoy it and have a happy and healthy New Year."
Other books in Obama's list include, The Power by Naomi Alderman, Grant by Ron Chernow, Evicted: Poverty and Profit in the American City by Matthew Desmond, Janesville: An American Story by Amy Goldstein, Five-Carat Soul by James McBride, Anything Is Possible by Elizabeth Strout, Dying: A Memoir by Cory Taylor, A Gentleman in Moscow by Amor Towles, and Sing, Unburied, Sing by Jesmyn Ward.

The former US president also included two special mentions for basketball fans; Coach Wooden and Me by Kareem Abdul-Jabbar, and Basketball (and Other Things) by Shea Serrano. 
Exit West
Hamid's fourth novel Exit West was even shortlisted for The Man Booker Prize, which was ultimately won by George Saunders's Lincoln in the Bardo. 
Earlier, Hamid's acclaimed novel, The Reluctant Fundamentalist, was also shortlisted for the prize in 2007 and even got made into a feature film by Indian director Mira Nair.
Hamid is the author of four novels, Moth Smoke, The Reluctant Fundamentalist, How to Get Filthy Rich in Rising Asia, and Exit West, and a book of essays, Discontent and Its Civilizations.
Born in Lahore, Hamid spent half his life there and the remaining in New York, California and London.