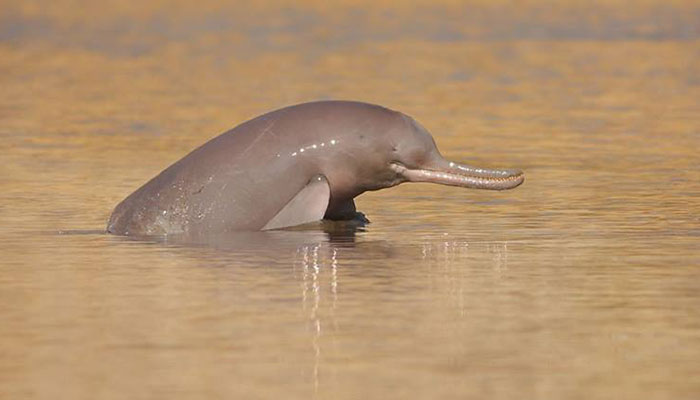 SUKKUR: A blind dolphin died of injuries after it hit the gate of the Sukkur barrage, the wildlife department said on Tuesday.
The dolphin was swept away into the Khairpur Feeder West canal from the barrage during its annual cleaning and succumbed to its injuries due to old age.
According to locals, they contacted the rescue department as soon the dolphin was spotted but the officials failed to reach on time.
The wildlife department added that 700 dolphins populate the waters between Guddu and Sukkur barrage. A blind dolphin rescue centre has been established at the Sukkur barrage to ensure swift rescue in the event of such an incident.
A WWF study in December said the number of the endangered Indus River dolphin, also known as bhulan or the 'blind dolphin', is on the rise – a significant positive development despite pollution threat.
In its report titled 'Signs of Hope for the Endemic and Endangered Bhulan,' WWF Pakistan noted that the species, almost at point of extinction a decade ago, has increased in number from only 1,200 in 2001 to 1816 -1900 in 2017.
The study, conducted by a team of experts from the Zoological Survey Department of Pakistan, WWF Pakistan, academic researchers from various educational institutions and the wildlife departments of Sindh, Punjab and Khyber Pakhtunkhwa, concluded at least 1,816 dolphins were sighted in the long stretch of 808 kilometres of the main channel of the Indus River.