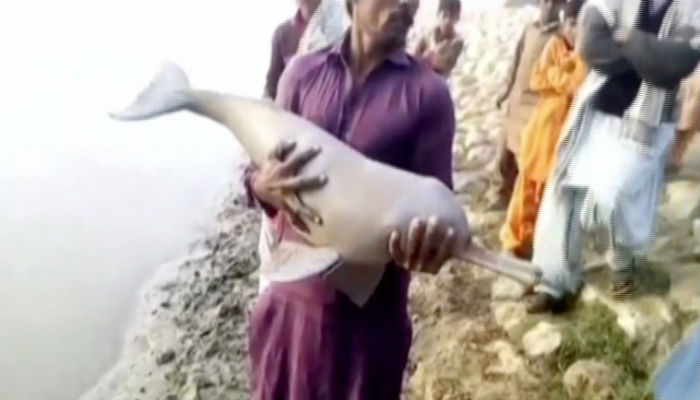 NAUSHERO FEROZ: A blind dolphin was rescued and released back into Rohri canal by locals, Geo News reported Monday.

However, locals said there is a threat to the dolphin's life as it might get stuck on the door of Phull Fall regulator near Naushero Feroz. They also asked  officials of the wildlife department to release the dolphin into the Indus River.
According to the locals, a dolphin was killed after it got stuck in the door of the same regulator earlier.
On November 16, two blind dolphins were rescued from Kirthar Canal and released in the Indus River.
According to the dolphin rescue incharge, Mir Akhtar Talpur, as the water level in Indus River is going down, dolphins swim into the canal in search of food. 
He added two dolphins of rare species swam into the canal two months back.
Since then the authorities concerned had kept an eye on the fish so as to protect them from any harm, the incharge said. However, on Thursday, water level in Kirthar Canal of Sukkur Barrage was reduced and the dolphins were taken out to be released in Indus River.

As per data released earlier, the Indus blind dolphin was one the most-threatened sweet water dolphin species.
There was once a time when a large number of the blind dolphin would be found in the Indus River. But now, its habitat has shrunk due to the construction of reservoirs, dams and barrages for agricultural purposes.