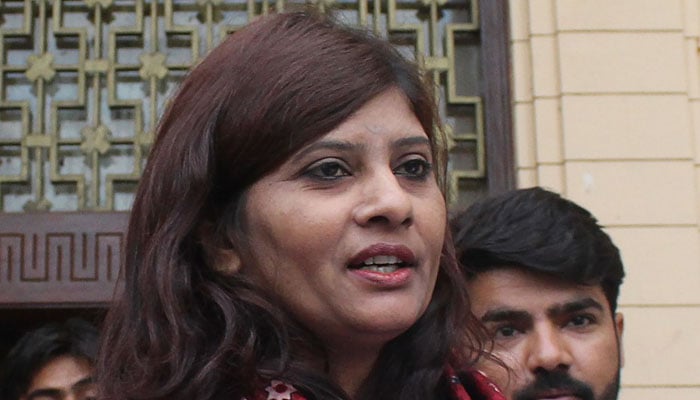 Pakistan's first-ever Thari Hindu woman senator's journey to the Upper House of Parliament was not an easy one.
Krishna Kohli, 39, who hails from the remote village of Dhana Gam in Nagarparkar, Tharparkar comes from a humble background.
Speaking to Geo News' morning show Geo Pakistan, the senator recalled her tough childhood. Although her family had to battle hunger and poverty, Kohli's parents made sure they didn't compromise on their children's education.
However, Krishna had to give up education for two years when she was in grade two. She along with her family members and relatives were held for two years as bonded labour by a landlord in Umerkot district.
"We weren't allowed to go anywhere whether it be a relative's wedding or Eid," she narrated. "I remember I was once forcibly brought back to the fields after I attempted to go somewhere," the 39-year-old added.
After two years, Krishna's uncle paid the landlord and her family was freed.
"I then, once again enrolled in school but got married when I was in ninth grade," Krishna said.
"Fortunately my husband and in-laws were extremely supportive and encouraged me to continue my education," she added.
In 2013, Krishna received her master's degree in sociology from University of Sindh.
Moving on from her education and how she got involved in politics, Krishna said, "In 2007 I took a leadership training and in 2010 I started work with Dr Fouzia Saeed, a well-known social activist."
"From then on, I worked actively against bonded labour, sexual harassment at workplaces, and for the rights of women and against child marriages," Krishna continued.
After the government passed a law against women harassment, she even ran a legal aid centre in Hyderabad to provide free support and counselling to women.
"In 2015, my brother, Veerji Kohli, won a union council seat as an independent candidate and then joined the Pakistan Peoples Party (PPP)," she added, explaining that all this and her active role in fighting for social causes led her to contesting the Senate seat recently from a PPP ticket.
Krishna further said her parents aren't familiar with the role of a senator. "They think I've gotten a big job and will be doing the same work in Islamabad as I'm doing in Nagarparkar."
She stressed that women need to acquire education to stand up for themselves and to bring change.